Friday, May 15, 2020

School Spotlight: Hillman High School Students Learn about Budgeting

While Community Financial can't be in the schools right now due to stay-at-home measures put in place throughout the state, we are grateful to look back on the financial education our school partnerships have provided throughout the year.




Community Financial's school partnerships provide financial education to many students in Northern Michigan.  Our school partners include: Gaylord Intermediate School, Lewiston Elementary, and Hillman Elementary School.  Hillman High School has enlisted Community Financial's help with providing financial education to their students as well.  Hillman High School's eleventh and twelfth grade students last year participated in a Community Financial sponsored "Reality Fair," where students were asked to navigate the world of finances as adults!

Friday, January 17, 2020

School Spotlight: Wildwood Elementary Students are SMART!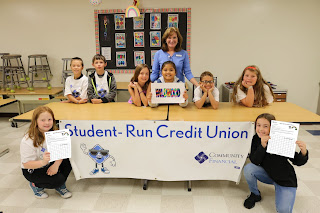 Wildwood Elementary Student-Run
Credit Union fall volunteers.

Community Financial's Westland branch opened to our members in 2018.  Since then, our school partnerships within the Wayne-Westland School District have started to develop.

Wildwood Elementary joined in partnership with Community Financial last year.  Here are some pictures of Wildwood's Student-Run Credit Union.

Friday, November 15, 2019

School Spotlight: Celebrating Diverse Learners at Kennedy Elementary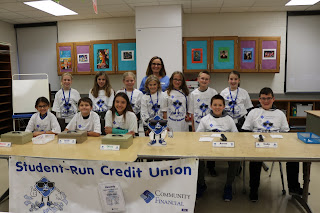 Education Partnership Coordinator, Amy Fava, with Kennedy
Elementary's Student-Run Credit Union fall volunteers.

Recognizing and celebrating how each student offers new and unique perspectives is important for any successful classroom.  The same applies to the Student-Run Credit Union program.  Community Financial believes in valuing diverse learners.  It is imperative that we work with teachers, parents, and students to understand each student as an individual with certain skills, personalities, cultural backgrounds, etc.




Education Partnership Coordinator, Amy Fava, strives to know each student volunteer and member personally at Kennedy Elementary in Livonia.  Amy works tirelessly with teachers and parents to address any accommodations students may need to be successful workers and savers at the school's Student-Run Credit Union.   

Go to main navigation Go to main navigation

Community Financial Credit Union

P.O. Box 8050

Plymouth, Michigan 48170-8050

(877) 937-2328

Visit One of Our 14 Convenient Locations