Amerman and Gaylord Intermediate Celebrate 30 Years!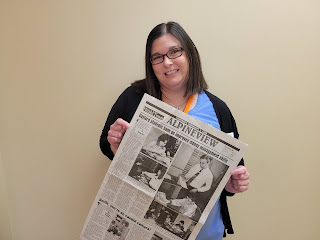 Alicia G. is an MSR at the Gaylord Branch.
Her training started early as a Teller at the GIS
Student-Run Credit Union in 1996.
School Spotlight: Amerman and Gaylord Intermediate Celebrate 30 Years!
Amerman Elementary, within the Northville Public School district, and Gaylord Intermediate School, in Gaylord, are both celebrating 30 years of partnership with Community Financial! For the past 30 years, select fifth grade students at Amerman and sixth grade students at Gaylord Intermediate have helped to operate the Student-Run Credit Union. In the Student-Run Credit Union (SCU), students are "hired" and learn the business of banking as credit union tellers, branch managers, marketing representatives, computer operators, and accountants. Students at Amerman and Gaylord Intermediate have definitely acquired some valuable work and money-saving skills during our steadfast, 30-year journey together!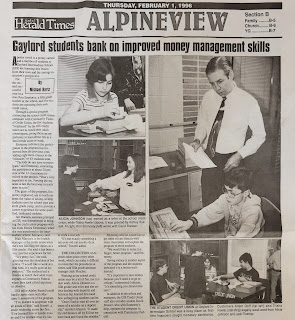 A news article from 1996 highlighting
the Community Financial Student-Run
Credit Union at GIS.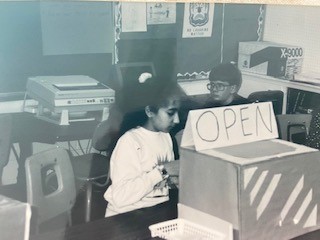 A young Teller at Amerman learning her job in 1991.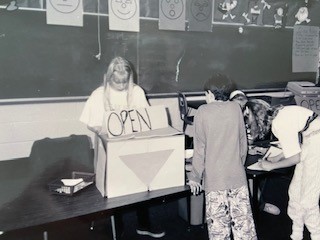 A love of saving being fostered by the
Amerman Student-Run Credit Union early on!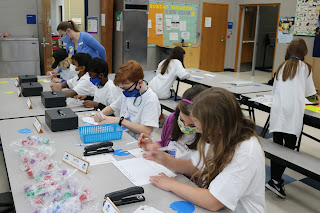 Education Partnership Coordinator Amy P. oversees
5th grade workers at Amerman Elementary in Northville
as they process transactions.
30 Years of Saving
What were students saving their money for 30 years ago? While some things have remained the same, some savings goals have drastically changed! Education Partnership Coordinators often hear students saving for a new cell phone (which was almost unheard of in 1991). They also hear talk of saving for the latest gaming consoles, which are now completely different from 30 years ago. No matter the item, learning to save your money has always been an important, valuable lesson and we are proud to have helped students at Amerman and Gaylord Intermediate reach their savings goals for 30 years.
Student workers getting trained in 1991.

Current 5th grade workers at Amerman carrying on
the tradition of SCU excellence!
Setting Money Goals for a Rewarding Future
A sample Goal Sheet used by our young
members to help set (and reach!) savings goals.

To help students with their savings goals, those who participate in the Student-Run Credit Union program each receive a "goal sheet" at the beginning of the school year. Students can track their progress on this "goal sheet" after each Student-Run Credit Union deposit day at school. It's great to see students come closer and closer to reaching their goals! Some students start with small goals: a new book, a toy, or a game. Others can be encouraged to dream even bigger, like saving for college or for a car!

Teens and adults are encouraged to keep track of their savings goals as well. By using the My $ Manager feature on our eBanking or mobile app, members can set savings goals, pay-off goals, a budget, and monitor spending habits. This amazing feature helps any member keep their savings and spending in check! For more information about My $ Manager, please visit cfcu.org/MyMoneyManager.




Your Turn: What lessons have you learned from working with or being a member of the Student-Run Credit Union? Share your thoughts with us in the comments!




« Return to "Money Matter$ Blog"Go to main navigation