Warming Hearts & Homes is Back. You Click. We Donate!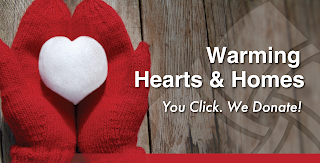 Community Financial Credit Union is excited to kick off the holiday season with the return of our 8th annual Warming Hearts & Homes charitable campaign! Throughout the month of December, Community Financial will donate up to $40,000* to local nonprofit organizations that provide heat, food, shelter and clothing to families in need.

During the winter months, cold weather puts extra strain on families, some of whom are forced to choose between paying utilities and putting food on the table. Community Financial remains dedicated to supporting the fight against cold and hunger in Michigan each winter.

As a member of our community, you're invited to participate in this year's campaign by getting social with us! Each week in December we will post on social media about the different organizations below.
Every Facebook, Twitter, and Instagram interaction equals a $25 donation to help the following:
Like, share, or comment on our Facebook posts – @Community Financial
Like, retweet, or reply to our posts on Twitter – @cfcreditunion #CFCUwarms
Like or comment on our pictures on Instagram – @communityfinancial

"Warming Hearts & Homes is an easy way for people to get involved and help others in their local communities," said Community Relations Manager Natalie McLaughlin. "Each winter, local families are faced with challenges. Through this campaign, Community Financial is honored to help the community face the cold with heat for their homes, coats for their children, safe shelter and food."

Giving back to your community has never been easier! To learn more about the Warming Hearts & Homes Campaign visit cfcu.org/warms.
Together we can make a difference in our communities this holiday season.


*Each charity will receive up to $10,000 during the month of December.
« Return to "Money Matter$ Blog"
Go to main navigation