School Spotlight: Liberty Middle School Students Get Schooled in "Adulting"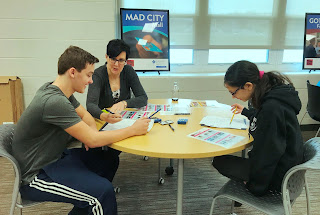 Life Management teacher, Colleen Ramirez, helps students
make wise choices at the Mad City Money "Mall" station.
Seventh and eighth grade Life Management classes from Liberty Middle School in Canton participate in Mad City Money. This program is a reality simulation designed to engage students in making tough budgeting choices as if they were an adult. Students begin the simulation by picking a profession and are given a set salary.
They are also given credit card debt, student loan payments, and healthcare costs. During the simulation, students must purchase their transportation, housing, child care, home essentials, food, and clothing within their means. In the end, the goal is for students to have built a monthly budget that leaves $100 in their checking account.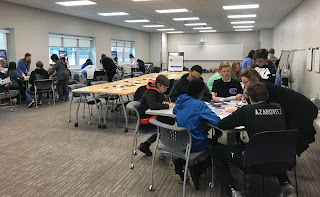 Life Management students rotate to
stations to make all of their purchases.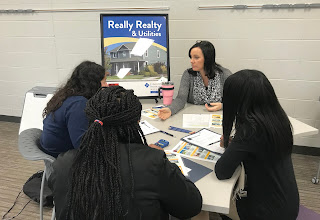 Liberty Middle School staff member,
Trichelle Touma, helps students purchase
housing during Mad City Money.
Students vary in how they spend their money throughout the simulation. Some students end up with a lot of extra money (thinking they can now buy a luxury boat), only to realize that they have significant credit card debt that needs to be paid off first. Other students find that they are over-budget and have to get rid of their fun purchases (like that extra boat)! Overall, however, students get the sense of how "adulting" (as one student described it) is a challenge.
Check out some fun pictures of Community Financial team members assisting students with their budgeting: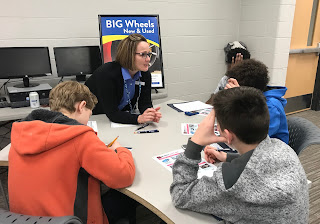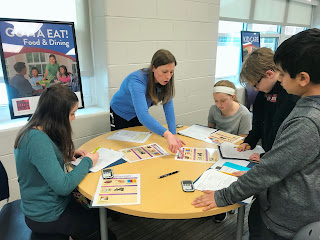 Student Credit Union Members and Budgeting
Student credit union members at Community Financial are also encouraged to have a plan for their money. Student members are given a goal sheet at the beginning of the school year that helps them to set a savings goal and to track their progress each month. This helps students to "budget" their money at an early age. You are never too young to learn budgeting skills!

Budgeting Skills
Creating a monthly budget takes time, effort, and organization. Students participating in Mad City Money learn quickly that there are multiple elements to consider in creating a budget as an adult. Luckily, these students are guided in how to make wise money choices during this simulation. Adults, however, must often navigate the world of credit cards, debt, loans etc. on their own with little help. The resources listed below can help alleviate some of that stress. Check them out to find more budgeting and financial help:
Your Turn: Which financial resources do you find the most helpful? Tell us below in the comments.
« Return to "Money Matter$ Blog"
Go to main navigation