Wayne-Westland's School Partnerships with Community Financial
Community Financial's Westland branch opened to our members in 2018. Since then, our school partnerships within the Wayne-Westland School District have grown. Student-Run Credit Unions are offered at Wildwood and Edison Elementary Schools. We have also brought financial education to the William D. Ford Career and Tech Center, as well as John Glenn High School.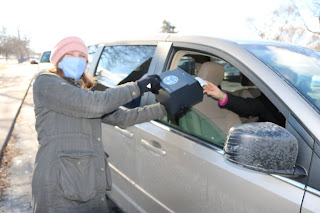 Assistant Manager/Community Relations, Mary Kerwin,
braves the cold weather to provide students the opportunity
to save their money at Wildwood Elementary.
Student-Run Credit Union Comprehensive Program Offerings
The Student-Run Credit Union program offers many different types of financial education experiences to its school partners. In addition to bringing access to saving money at schools, financial and business presentations are offered as well as "Reality Fairs" and budgeting simulations, mock interviews, and interviewing etiquette skills. Education Partnership Coordinators are hard at work each day providing these lessons and skills to students in the Wayne-Westland School District. They've even found imaginative ways to engage these students during an ever-challenging pandemic!
Some specific presentation topics that coordinators teach in Wayne-Westland elementary schools include: needs and wants, starting a business, mental math fun, coin recognition and counting money, saving money, and multiple Junior Achievement lessons. For high school, our Westland presentations thus far have included lessons on: credit, budgeting, taxes, investing, checking/money management, fraud, and interviewing. There are lots of real-life skills being taught by our coordinators in Wayne-Westland Schools!
A Wildwood student confronts the cold herself to save her money.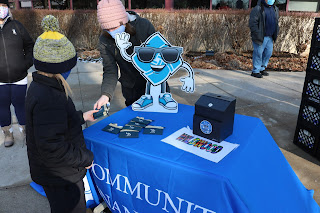 She gets a prize for both saving her money and braving the cold to do so!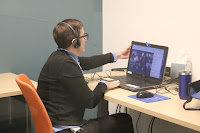 Education Partnership Coordinator, Kristen La Forest, teaching
about checks and checking accounts virtually to John Glenn High School students.
If you would like more information regarding our Student-Run Credit Union program, please contact Mary Kerwin at mkerwin@cfcu.org, or visit our website at www.cfcu.org/scu.
Your Turn: What other types of business skills and/or financial topics do you believe students should be taught in schools? Share your ideas in the comments!
« Return to "Money Matter$ Blog"
Go to main navigation