6 Ways to Save Money on Camping Costs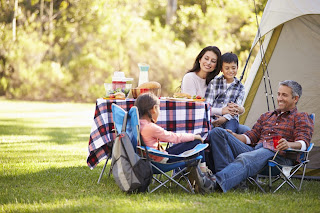 Camping was always considered the low cost vacation option, cheaper than spending money on hotels and eating in restaurants, certainly. But if you're not careful, camping comes with hefty start-up costs to sleep comfortably in the great outdoors and protect yourself from the elements. How can I cut down on camping costs but still have a great experience?
If you're looking to trim your vacation expenses, read on for 6 ways to save on
camping costs
.
1. Save on location
Why pay a fee when you can camp free? Search online for free campground sites where you can pitch your tent or park your RV. Or consider camping at a national forest. You'll pay an entrance and amenity fee, but you're free to stay anywhere on the grounds as long as you follow park guidelines. If you're a frequent camper, consider purchasing a
National Parks and Federal Recreational Lands annual pass
. For just $80 a year, or $20 for individuals age 62 and older, you'll have access to more than 2,000 national parks and national wildlife refuges. The pass covers entrance fees, parking fees, amenity fees and more. If you're currently a member of the U.S. military, you and your dependents are entitled to a free annual pass.
2. Consider "workamping"
If you don't live near a national park and you'd love a free stay, "workamping" can be a terrific option. Lots of campsites and RV parks are now offering this choice: For a bit of hard work, you'll get free access to the campgrounds.
3. Rent or borrow camping gear
Are you a frequent camper? If not, it really doesn't pay to spend big bucks on specialized equipment you'll rarely use. You can borrow camping gear from a friend, or rent from companies like REI Co-op. If you'd rather have your own equipment, check out sites like Switchback Gear Exchange for gently used camping items at great prices.
4. Skip the prepackaged meals
Save on food costs by ditching prepackaged meals. You can find many ideas for easy camping meals you can cook over a fire with a quick Google search. Usually, all it takes is some basic food supplies and a roll of aluminum foil!
5. Share meal prep
If you always camp as a group, take full advantage by sharing the meal prep. Divide the meals completely, with each family fully responsible for several meals, or create a master list of supplies and food, and then divide and conquer.
6. Pack like you're being marooned on an island
Don't set out on your trip until you've triple-checked that you've packed everything. You don't want to be forced to pay inflated small-town convenience store prices for forgotten items.
Your Turn:
Have some camping hacks that help save on costs? Share your best tips with us in the comments!
« Return to "Money Matter$ Blog"
Go to main navigation