Back to School for Our Student-Run Credit Union Team!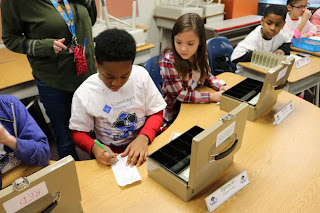 Back-to-school time means another busy year for our Education Partnership team! Each year, through our Student-Run Credit Union Program, we partner with Michigan school districts to help expose thousands of students to money management skills and financial wellness. Students run, or participate in school branches as members, credit union tellers, branch managers, marketing representatives, computer operators and accountants.
New Partnerships
Earlier this year we opened our 52nd Student-Run Credit Union at Wildwood Elementary! Wildwood is our second Wayne-Westland Community Schools partner and we are so excited to work with all of these wonderful students. Through our program, students at Wildwood will be able to experience financial education presentations, as well as the opportunity to make a deposit into their credit union savings account at the school.
Team Member Involvement
Throughout the school year, team members at Community Financial help conduct student interviews. Even students that don't want to participate in the Student-Run Credit Union get the opportunity to practice their interviewing skills with our team! This gives students a valuable real-world experience of dressing up for an interview, shaking hands with the interviewer, making eye contact, and answering job and skills-related questions.
National Recognition
Community Financial was also recently recognized at the National Youth Involvement Board (NYIB) annual conference for its financial education efforts.
For Presentations Given ($500-$999 million asset category)
3rd Place – Erin Ilg (198 presentations)
4th Place – Kristen La Forest (184 presentations)
5th Place – Julie Blaylock (140 presentations)
For Students Reached ($500-$999 million asset category)
2nd Place – Julie Blaylock (4,046 students)
3rd Place – Karie Gonczy (3,690 students)
5th Place – Erin Ilg (3,251 students)
We're proud to be leading the way regionally, and nationally in financial education! We wish all students their best in the 2019-2020 school year and we look forward to working with them during the year. You can learn more about our Student-Run Credit Union Program by visiting
cfcu.org/SCU
.
« Return to "Money Matter$ Blog"
Go to main navigation