Friday, May 21, 2021

Lewiston Elementary Volunteers Celebrate Perseverance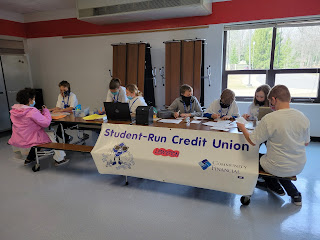 Lewiston Student-Run Credit Union
volunteers hard at work!

As another school year nears an end, Community Financial's Student-Run Credit Union reflects on the progress that students have made. Even during a pandemic, many Student-Run Credit Union members successfully set money goals, saved for their futures, and learned valuable money skills.  Lewiston Elementary, located in Montmorency County in Northern Michigan, showed a lot of perseverance this year in particular. Student members and volunteers at Lewiston were great savers, workers, and goal setters, even while wearing masks and striving to stay healthy!

Friday, April 16, 2021

School Spotlight: Celebrating March and April with Our Community Partners!

March and April are busy months for our community partnerships! Both months provide great opportunities for Community Financial to assist with educational events at local schools and libraries within the community.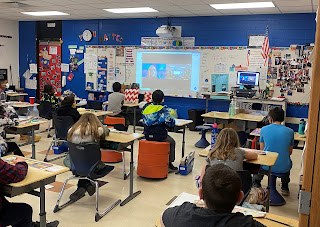 Students in Ms. Danaher's fourth grade class at Kennedy Elementary
in Livonia listened to Education Partnership Coordinator, Amy Fava,
read as a guest for "March is Reading Month."

"March is Reading Month" Fun

Community Financial has been actively supporting local libraries, school media centers, and classrooms for "March is Reading Month" for many years. This year, Education Partnership Coordinators have "zoomed" into classrooms to read some of their favorite books to students, as well as creating book read-aloud videos for teachers and media specialists alike. Prizes were also sponsored and given out to exceptional readers at Community Financial's partnering schools. "March is Reading Month" was a fantastic month, full of reading fun for everyone involved.

Friday, March 19, 2021

School Spotlight: Orchard Hills Students Continue to Be Money-Smart!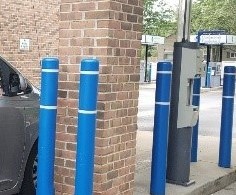 Orchard Hills Elementary School in Novi has been a partner with Community Financial for eighteen years! Throughout these years, students have been exposed to the importance of saving money monthly at the Student-Run Credit Union. This year, however, students at Orchard Hills have been encouraged to visit the "drive-thru" at our near-by Community Financial branch locations. Orchard Hills students remain money-smart in spite of the challenges the past year has thrown at us! Although the Student-Run Credit Union hasn't been able to operate within Orchard Hills just yet, it's fun for students to watch their money and prizes "ride the tube" to and from their car!

Thursday, October 15, 2020

School Spotlight: Staying Positive at Wixom Elementary!

Community Financial's Wixom branch opened to members in 2018.  Since then, our school partnerships within the Walled Lake Consolidated School District have begun!  Wixom Elementary joined in partnership with Community Financial in the fall of 2019.  Wixom Elementary's Student-Run Credit Union volunteers and members demonstrated how to be positive, and have fun, all while learning valuable work skills.

Friday, October 18, 2019

School Spotlight: Ridge Wood Elementary Teachers Engage Students in Financial Education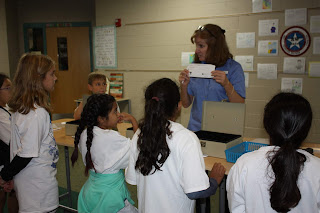 Senior Education Partnership Coordinator, Mary Kerwin,
instructs volunteers on cash handling procedures before
Ridge Wood's Student-Run Credit Union Grand Opening.

The Student-Run Credit Union Program is Back!

Community Financial's award winning Student-Run Credit Union program is back again! Our school partnerships continue to grow every year, and we are now partnered with 52 schools in our neighboring communities. Ridge Wood Elementary in Northville began a partnership with us in 2017. With the added support of Ridge Wood's staff and students, we are now partnered with all elementary and middle schools within the Northville school district.

Friday, March 15, 2019

School Spotlight: Coolidge Elementary Starts Early with Financial Education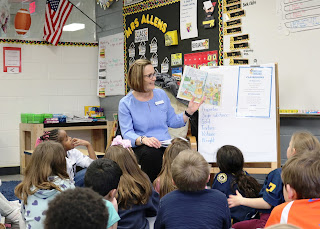 Education Partnership Coordinator, Amy Fava,
uses the book Arthur's Pet Business by:
Marc Brown to introduce second grade
to key economic concepts.

Community Financial believes it's important for all students to receive financial education. The money management skills students learn through our Student-Run Credit Union program and our financially-based classroom presentations set the tone for a positive financial future.

Coolidge Elementary School in Livonia partners with Community Financial to jump-start their students' financial confidence at an early age. Take a look at these awesome students from Coolidge Elementary learning about opportunity costs, goods and services, and what a business plan is with Education Partnership Coordinator, Amy Fava.

Go to main navigation Go to main navigation