Family-Friendly Summer Events in Your Community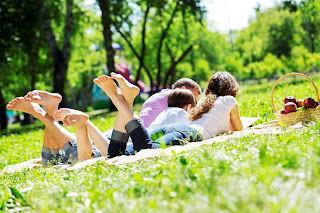 Summer is here, which means Michigan will come alive with fun events to attend. From outdoor concerts and farmers markets, to movies in the park, there are tons of activities for the whole family to enjoy. Here's your guide to some of the events Community Financial will be sponsoring this summer in your community!
SOUTHEAST MICHIGAN Plymouth
Music in the Air
– Bring your lawn chairs and blankets to Plymouth's Kellogg Park and enjoy the free concerts on Friday nights, June 22nd – July 6th and July 20th - August 31st, at 7 pm!
Music in the Park Children's Concerts
–Enjoy free children's concerts in Kellogg Park on Wednesdays at 12 pm, Jun 20th – June 27th and July 11th – August 29th
Summer Drive-in at USA Hockey Arena
–Enjoy newly released movies with the whole family. Each ticket allows you to enjoy TWO movies for the price of one! The Summer Drive-In is open all summer from June 8th-September 2nd. See times and prices at summerdrivein.com.
Wednesday Night Workouts
- Break a sweat in Kellogg Park on Wednesday nights at 6:30 pm from May 30th-August 29th. Sessions are beginner friendly and designed for all ages!
Canton
Tuesday's are Terrific
- Come out for some good food and great music in Heritage Park on Tuesdays, July 17th - August 14th at 11:30 am!
Thursday Night Concert Series
– Partake in Canton's 20 year tradition and enjoy the live bands with the whole family on Thursdays, June 28th and July 12th – Aug 16th at 7:30 pm!
Northville
Friday Night Concerts
– Come enjoy a new live band every week in the Northville Town Square Friday nights, June 22nd – August 24th, from 7 pm - 9 pm!
Tunes on Tuesday
– Have some free kid-friendly fun at the Tunes on Tuesday concert series on Tuesday mornings, June 19th– August 28th, at 10:30 am in Northville Town Square!
Novi
Family Fun Fridays
– Watch fun, kid-friendly movies in the park, on June 22nd at 6 pm and July 13th and August 17th at 7 pm!
Wonderful Wednesdays
– Bring the kids out for some free tunes and enjoy beautiful Fuerst Park on June 20th – June 27th and July 11th – August 15th at 10:30 am.
Livonia
Livonia Spree
- Bring the family out for delicious food, great music, carnival games and rides on June 19-24th to celebrate the birthday of the city of Livonia. And don't forget the fireworks on Sunday night!
Westland
Blues, Brews & BBQ
- Enjoy some blues music from some of Detroit favorites on August 3-4th. Choose from a collection of Michigan's own hand crafted beers and have a brew, or two. And don't forget about the barbecue!
NORTHERN MICHIGANGaylord
Alpenfest
- Gaylord will be hosting its' 54th Annual Alpenfest on July 10th – 14th, 2018. Expect five days of festivities including a parade, carnival, kids games and contests, pancake breakfast, live entertainment and the World's Largest Coffee Break.
Lewiston
Timberfest
- Lewiston is hosting this fun filled weekend from August 3-4th that includes carnival games, a beer tent, kid's inflatables, and more!
Concerts in Village Park
- Albert Township Parks and Recreation is hosting a series of Movies and Concerts at Village Park this summer. Check with the Lewiston Chamber for more info.
Hillman
Mill River Days at Brush Creek Mill
– From June 30- July 7 Brush Creek Mill is hosting its Mill River Days, with free musical entertainment and an arts & crafts show.
We hope to see you this summer at one of these fun events. If you see us in our orange Summer of Sharing shirts passing out goodies to the crowd, be sure to say hello! For more information on the events Community Financial sponsors, check out our community calendar at
cfcu.org/calendar
.
« Return to "Money Matter$ Blog"
Go to main navigation