Creative Dine-In Cooking: Spaghetti Pizza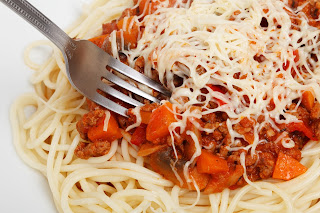 With families home more often, cooking the same meals can get boring. So give your classic spaghetti a fun new twist with this creative, budget-friendly recipe!
1 jar (16 oz.) spaghetti sauce
1 cup shredded mozzarella cheese
·
Preheat oven to 350°F. Grease a 9×13-inch pan or a 10-inch round pan.
·
Cook spaghetti according to package directions. Drain and cool.
·
Blend the egg and Parmesan cheese. Pour over the spaghetti, mixing well. Place into prepared pan.
·
Pour spaghetti sauce over pasta and cover with shredded cheese. Top with your favorite pizza toppings, such as pepperoni, sausage, anchovies, mushrooms, olives, peppers, tomatoes, etc. Anything goes!
·
Bake for 35 minutes, or until cooked through.
·
This recipe also works well with rotini and penne pasta.
Your Turn:
What are some of your favorite creative cooking recipes? Share with us in the comments!
« Return to "Money Matter$ Blog"
Go to main navigation