Which Features Should I Look for in a New Car?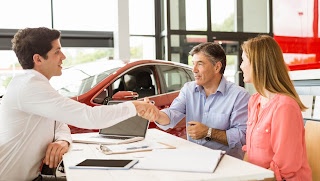 Are you in the market for a new set of wheels and the choices are making you dizzy? Shopping for a new car can be complicated—but it doesn't have to be that way. With a bit of research and some time spent determining what's important to you, you can make a choice you'll be happy with for years to come.
To help you out, we've created a list of key features you might want to consider in your new car, as well as a list of features you can skip.
Safety Features
360-degree camera: This camera gives drivers a bird's-eye view of the area around the car.
Evasive steering: This feature provides additional steering support when you're in danger of colliding with another vehicle, and your own steering efforts are insufficient.
Forward collision warning: Drivers get a visual and/or audible alert when their vehicle is heading toward a forward collision.
Blind spot alert: This feature alerts the driver when there is an object or pedestrian in direct line of their blind spot.
Automatic emergency braking: Stay safe with this feature, which automatically applies the brakes when it senses a vehicle in your car's way. Some systems include pedestrian detection as well.
Convenient Features
Automatic keyless entry: This feature automatically unlocks a car's doors when it senses a nearby fob.
Power tailgate: This feature for pickup trucks and SUVs lets you lower and raise your tailgate with the push of a button.
Multi-zone climate system: Family road trips are peaceful again with this feature, which allows for different climate controls throughout the car.
Speedy USB-charging outlets: No more unbearable waits for your gadgets to power up with this super-speedy USB port.
Heated steering wheel and driver's seat: This one is for those frosty mornings when your car can't get warm fast enough.
Wireless charging pad: Just place your phone on one of these pads and it will start powering up.
Fun-to-Have Features
Home assist device connectivity: Some new cars allow you to use remote voice control with home assist technologies, like Alexa, for your car.
Rear entertainment systems: This feature gives the rear seat of your car a completely separate entertainment system.
Android Auto and Apple CarPlay: These features sync your smartphone's interface with your car's infotainment system for easier phone control.
Features You Could Skip
Bigger wheels and thinner tires: The ride will be less comfortable and your wheels will be more prone to damage from potholes.
Built-in navigation systems: You know you're going to use Waze most of the time anyway. Also, most built-in navigation systems require constant updates.
Lane keeping assist: This feature automatically steers or brakes your car when you cross a lane marking without turning on a blinker. In real life, though, it can be annoying as you'll often need to cross a lane marker for good reason, like moving over for an emergency vehicle.
Before you start shopping, visit our
Community Financial Auto Resource Center
. Get quotes, compare vehicles, and calculate payments so you can know before you go to the dealership!
Plus,
from May 13 – July 31, 2019
, getting an auto loan from Community Financial means you could win
FREE GAS for the next year!*
That's $2,600 worth of gas! Learn more at
cfcu.org/loanoffers
.
Your Turn:
Did you buy a new car recently? Tell us about the features you chose in the comments below.
« Return to "Money Matter$ Blog"
Go to main navigation