School Spotlight: Celebrating Diverse Learners at Kennedy Elementary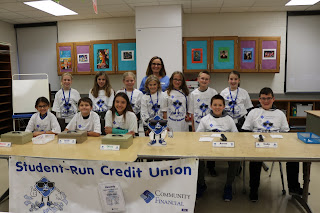 Education Partnership Coordinator, Amy Fava, with Kennedy
Elementary's Student-Run Credit Union fall volunteers.
Recognizing and celebrating how each student offers new and unique perspectives is important for any successful classroom.
The same applies to the Student-Run Credit Union program.
Community Financial believes in valuing diverse learners.
It is imperative that we work with teachers, parents, and students to understand each student as an individual with certain skills, personalities, cultural backgrounds, etc.
Education Partnership Coordinator, Amy Fava, strives to know each student volunteer and member personally at Kennedy Elementary in Livonia.

Amy works tirelessly with teachers and parents to address any accommodations students may need to be successful workers and savers at the school's Student-Run Credit Union.
Working to Include Everyone in Financial Education
The Student-Run Credit Union program recognizes the importance of diversifying instruction to meet the individual needs of students.

Whether it's presenting in a classroom or working one-on-one with student volunteers, Community Financial staff is committed to recognizing each individual's strengths.

Here are some ways in which our staff makes the Student-Run Credit Union program an opportunity for all students:
·
Modifying classroom presentations to meet student/teacher needs
·
Including different ways to address tactile/kinesthetic, auditory, and visual learners
·
Providing accommodations in terms of pacing and learning tools when appropriate
·
Celebrating successes of each student with year-end celebrations
·
Accommodating special allergy and food needs when needed
·
Including all students who want to volunteer and/or learn to save their money
Financial education and wellness is important for everyone.

In striving to meet students' and members' needs, we can offer the scaffolding necessary to gain financial success.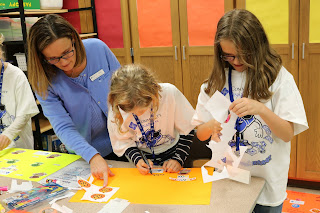 Education Partnership Coordinator, Amy Fava, encourages
student marketing representatives to be creative.
Your Turn:
What are some other ways in which we can help and celebrate diverse learners with financial needs?
« Return to "Money Matter$ Blog"
Go to main navigation