School Spotlight: Local High School Students Learn About Credit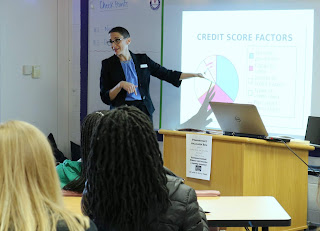 Education Partnership Coordinator, Kristen La Forest,
instructs teens about the "Ten Things Teens Should
Know About Credit" at Starkweather Academy.
At our partnering high schools in the Plymouth-Canton community (P-CEP, Starkweather Academy, New School High, and Canton Preparatory High School), Community Financial is busy preparing students for the real world!
Our high school Education Partnership Coordinator, Kristen La Forest, conducts presentations to help teens become more knowledgeable about financial topics and to ready them for the world beyond high school. One of her most requested presentations is "Ten Things Teens Should Know About Credit," a 50 minute lesson where students learn the basics of credit card use, credit scores, and credit card fraud.
Teens and Credit Cards
High school is an exciting time for teens, especially as they get their first jobs, have money to spend, and prepare to take their next steps after graduation. As they become young adults, teens need to understand how using credit responsibly will help move their credit score in the right direction. Their credit score will be very important when they buy their first car, rent an apartment, obtain a mortgage, and purchase insurance. By understanding ways to choose the right credit card for their needs, how to decipher key terms and fine print on credit card applications, and how interest accumulates, students are better informed and more likely to use credit wisely.
Here are just a few things teens, and everyone, should know about credit:
A credit card is a contract; when you sign up, you agree to all of the terms and conditions in that contract, including paying the credit card company back for every dime you owe.
When it comes to using credit cards, unpaid bills, and late payments, carrying a balance puts you further and further behind. The best way to handle your credit card use? Pay in full and pay on time. Therefore, don't charge more than you can afford!
When you select the credit option on your debit card, you are not building your credit score. Unlike using a credit card, you are not borrowing any money; the transaction amount is deducted directly from your checking account.
Your credit score is used to determine more than the interest rate you will receive on a loan. Nearly half of all employers check credit scores of their applicants. Insurance companies will check your score to determine your rates. Landlords will also look at your score to see if you are responsible since they want to be paid in full and on time!
More than 40% of financial fraud is related to plastic. What can you do to help limit the chances you will be a victim?
Interested in learning more about credit? Visit our Money Matter$ eLearning Center at
cfcu.org/elearning
.
Your Turn:
How responsible are you when it comes to credit? Are there habits you can change to move your credit score in the right direction?
« Return to "Money Matter$ Blog"
Go to main navigation