2017 Community Matters Annual Report Available
A Message from CEO Bill Lawton and Board Chair Teresa Folino
We thank you for your continued support and membership at Community Financial Credit Union. We are pleased to share our
2017 Community Matters Annual Report
in which you'll find information highlighting the credit union's commitment to our members and our communities.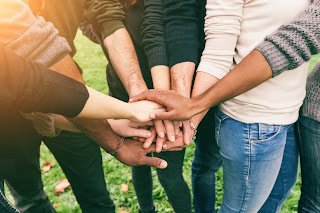 In 2017, we continued to focus on our members' needs and giving back to those in our communities, through financial contributions and team members donating their time to volunteer. We were proud to expand our branch network to serve our members in the Westland community. The branch is located on Wayne Road just north of Warren Road.
We are very proud of the work our team members do each and every day. This past year was no exception, as our award winning Student-Run Credit Union program was selected as the Michigan state-level winner of the Desjardins Youth Financial Education Award and recognized as the 1st place National Award winner. With our school partners, we engage students in local schools and teach them smart money habits that will last throughout their lifetime.
In 2017, we surveyed our members to take a closer look into their financial health. The survey results will guide our efforts through 2018 and beyond as we continue to ensure you have the tools you need to build a solid financial foundation. Our passion for service to our members sets us apart from other financial institutions in Michigan and we constantly work to build and maintain strong member relationships so we can serve you better.
Finally, we would like to thank all of the directors and the board's supervisory committee for their dedication and willingness to serve the credit union on a volunteer basis over the past year. They continue to represent you and govern a financially strong credit union that is able to make a positive difference for our members and our communities. We are both very proud to be a part of Community Financial and its commitment to enhancing the communities we serve. We can't do this without your membership and we hope you are proud to be a part of a very special cooperative that is changing lives and building stronger communities. Thank you for giving us the opportunity to serve you and we look forward to serving you in 2018.
« Return to "Money Matter$ Blog"
Go to main navigation