School Spotlight: Wildwood Elementary Students are SMART!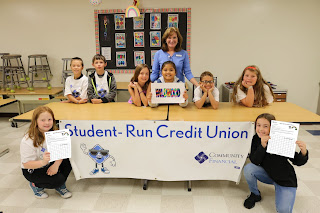 Wildwood Elementary Student-Run
Credit Union fall volunteers.
Community Financial's Westland branch opened to our members in 2018. Since then, our school partnerships within the Wayne-Westland School District have started to develop.
Wildwood Elementary joined in partnership with Community Financial last year. Here are some pictures of Wildwood's Student-Run Credit Union.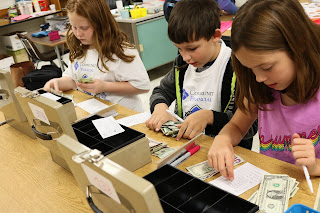 Student volunteers actively counting
student member deposits.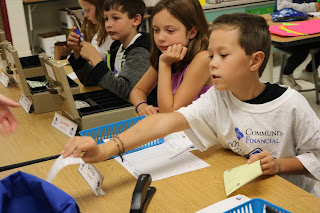 A student accountant gives a student
member their receipt.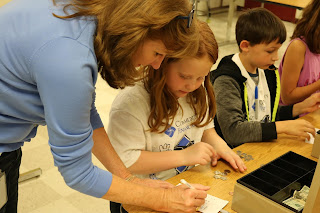 Assistant Manager/Community Relations,
Mary Kerwin, helps a student volunteer
count a member's deposit.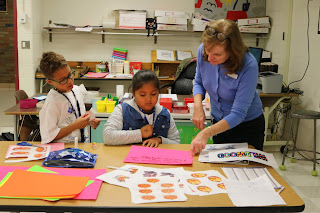 Student marketing representatives promote and
encourage student members to
save their money.
SMART Savings Goals
Community Financial's Education Partnership Coordinators help to educate students beyond just saving their money. One program highlight is helping student members have a SMART goal. SMART is an acronym for Specific, Measurable, Attainable, Realistic, and Timely. Each student credit union member receives a goal sheet at the beginning of the year where they can track a specific savings goal.
Student members save their money for various reasons. Some have large savings goals, like paying for college or a down payment for a car, while others want to save for smaller things like a new toy or adventure. Having a SMART savings goal is important for students to see their goals being met monthly. When students have achieved their savings goal for the year, they are awarded with a prize at the Student-Run Credit Union for their efforts!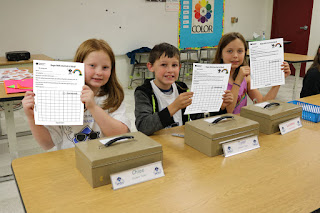 Student volunteers model the goal sheet all
student members receive to help with their
SMART savings goal.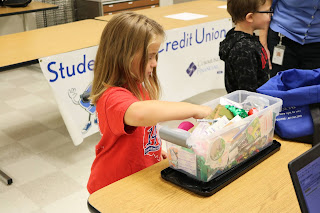 A Wildwood student member chooses
a prize for saving her money.
Your Turn:
What types of SMART goals do you have? Tell us what you are saving for in a SMART way?
« Return to "Money Matter$ Blog"
Go to main navigation