Making the Holidays Count When Home from College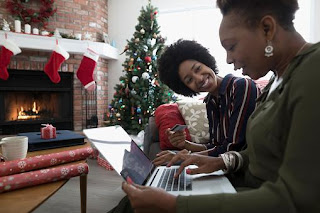 Are you a college student that's home for the holidays or know one that is? Don't spend your break sleeping in until noon and letting the time slip through your fingers with nothing to show for it.
Check out our handy list of ways you can make the holidays count while still getting some of that much-needed rest and relaxation you've been craving all semester. You can still get your beauty rest and sleep in, only not until noon – well, at least not every day.

1. Apply for scholarships and internships
During the semester, you're so bogged down with schoolwork and other obligations that finding the time to pursue scholarships and internships can be daunting. Put your looser holiday schedule to good use by getting a leg up on your applications. Devote one afternoon – or more if you can swing it – to researching and applying for those scholarships and internships. If you are a student member at Community Financial or know one that is we are offering (20) $1,500 scholarships in 2019 to deserving community-minded students. The application won't be available until January 2019, but you can learn more our about our scholarship types and criteria at
cfcu.org/scholarships
.
2. Catch up with old friends
Don't let your childhood friendships die because of neglect! Take the time this season to call up your old neighborhood pals and high school friends and have fun hanging out with those who know you best.
3. Plan next semester
Get a head start on planning next semester's schedule by taking the time to do it now. You'll be able to think more clearly when you're not pressured and you can make your decisions at leisure. You might also want to give a thought to creating a daily, weekly and/or monthly study schedule to help you give school work your best shot.
4. Workout
Don't go back to school with that telltale holiday bulge! Fit a regular workout routine into your more relaxed vacation schedule and skip the binge-eating this season. You'll look and feel a whole lot better!
5. Perfect your resume, cover letter and personal essays
It's always a good idea to review, update and improve these documents every few months or so. Why not do it now? All it takes is an hour or two to make sure your resume, cover letter and personal essays show you in the best possible light. Be sure to tweak with any changes you've had in your work experience and education level and, of course, triple check for those pesky typos!
6. Spend quality time with family
This might sound obvious, but don't forget to spend some relaxed time just catching up with your family and creating new memories to take back with you to the dorm. It's more than just sharing meals; give them your undivided attention, away from your phone. 7. Volunteer You might not have much opportunity to give back to the community during the semester, but when you're on holiday break, why not offer your time and energy to a local cause?

Your Turn:
How can college students make their holiday break count? Share your tips in the comments!
« Return to "Money Matter$ Blog"
Go to main navigation