#ThankfulThursdays are Back!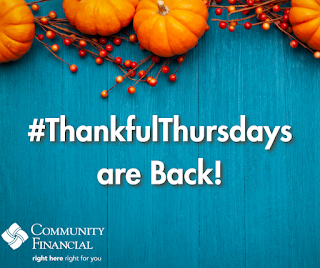 Welcome to November: the time of crisp autumn leaves, pumpkin spice everything, National Gratitude Month, and—our favorite of the bunch—Thankful Thursdays! #ThankfulThursdays are back this year and we're excited to share this annual giving program with the community once again.
To help spread our gratitude for our members and communities alike, we are donating $60,000 in total during #ThankfulThursdays to help feed those in need! Every Thursday this November, we will be making donations to local food initiatives throughout Michigan who provide aid our community members.
This year, we are happy to partner with the following charitable organizations to bring much-needed food to our communities.
November 4th:
Open Door Ministry of Canton
Community Sharing of Lewiston
Northville Civic Concern
November 11th:
Gleaners Food Bank of Michigan
Hospitality House of Wixom/Novi
Otsego Food Pantry
November 18th:
Blessings in a Backpack Westland/Livonia
Novi Feed the Need
Backpack Lunch Program for Gaylord, Lewiston, and Hillman Community Schools
November 25th:
Salvation Army of Westland
Salvation Army of Plymouth
Salvation Army of Alpena
Calvary Episcopal Church of Hillman, MI
The Caring Place in Atlanta, MI
Follow the #ThankfulThursdays journey on our social media accounts (Facebook, Twitter, Instagram) this November for updates, hunger statistics, photos and videos from selected organizations, and more!
« Return to "Money Matter$ Blog"
Go to main navigation