April is Financial Literacy Month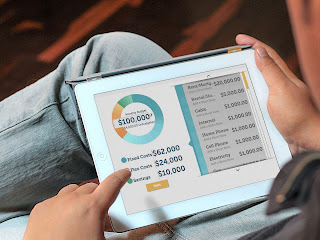 "April showers bring May flowers," goes the saying. It's also a great lesson about the importance of saving – where weathering some showers can pay dividends during the nicer days that are to come.
April is Financial Literacy Month, and a great time to think about some important lessons everyone can learn about finances. Whether you're a parent looking to make talking money with your kids easier or a professional looking for a few tips, there's always something to learn. Here are a few Community Financial Resources you can use to build your financial knowledge this month. Plus a few ways to get your kids involved!
Money Matter$ eLearning Center
Our
Money Matter$ eLearning Center
contains free and self-paced modules cover key financial concepts such as: saving, investing, raising your credit score, identity theft protection, and obtaining a mortgage. This program is mobile and tablet accessible and each module is only 2-7 minutes in length, so it's perfect for your busy lifestyle.
Financial Resource Center
In our
Financial Resource Center
, you can browse through channels on a range of different financial topics including: auto buying, career planning, loan & credit management, saving & investments, tax planning, etc. Click on each channel to see more information and resources on the various topics.
Financial Calculators
Our
Financial Calculators
can be used to calculate monthly payments on an auto loan, mortgage, or credit cards, or help you plan out your budget or retirement savings. Just enter in some basic data, and the calculator will help you figure out how much you can afford to pay or what you can save.
Money Matter$ Blog and Podcast
Our
Money Matter$ Blog
that you are reading right now offers insight on a variety of financial topics. You can browse our current and past blogs for financial tips, news and events going on at the credit union. Available on both iTunes and cfcu.org, our
Money Matter$ Podcast
has a library of short, easy to listen to episodes covering financial topics such as: how to budget for the holidays and back to school shopping tips.
Financial Counseling
Community Financial offers members free access to professional financial counseling services through
GreenPath Financial Counseling
.
Credit Union Youth Month
April is also National Credit Union Youth Month, which encourages kids to develop healthy saving habits by making savings fun and exciting. "Money Magic! Share, Spend and Save at Your Credit Union" is the official theme for this year. Join us as we celebrate
Youth Month
with fun activities, prizes, and more! We will have videos and activities each week for your kids to follow along at home! Visit
cfcu.org/youthmonth
for more info.
Your turn:
What financial resources to do you find the most helpful?
« Return to "Money Matter$ Blog"
Go to main navigation