How to Buy a Boat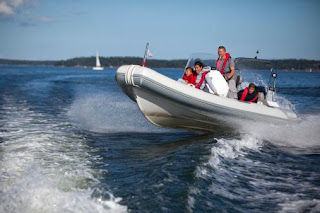 Get ready to set sail this summer! Read on for the ultimate boat-buying guide.
Step 1: Choose your boat type
Like automobiles, boats should be purchased with their intended uses in mind. Determine which water activities are most important to you. Also, research different boat types and ask your boat-owning friends to share their own impressions and tips. Also decide where you'll keep your boat. If you're choosing to self-store your boat, you'll need to purchase a trailer-able boat.
Step 2: Decide if you want to buy a new or used boat
Visit boating sites like
Boats.com
and
Discoverboating.com
to check out what kind of used boats are on the market. You might be pleasantly surprised!
Step 3: Start boat shopping!
Start your browsing with online listings like
Boats.com
,
YachtWorld.com
and
BoatTrader.com
. You'll be able to sift through hundreds of models and compare prices within minutes. Next, start making the rounds at local boat shows and dealers. Hop aboard as many boats as you can and ask lots of questions. Snap pictures and organize them by boat so you can look them over again when you get home.
Step 4: Narrow your choices
Sit down and list your priorities. Include all boat categories you will consider and then narrow that by your must-have features, ones you'd like and ones you want to keep away from. Next, review the snapshots of the boats you've looked at, both in real life and online, and list those that fit all, or most, of your preferences. Now, let's choose your boat!
Step 5: Inspect your boat
Once you think you've found the boat of your dreams, conduct a walk around and a sea trial. Inspect the entire boat thoroughly, because you don't want any unpleasant surprises once the deal is done. When you've finished your walk around, it's time to take her offshore. Your sea trial will show you what the boat is like out on the water. After the sea trial, ask to have the boat hauled because it's important for you to see the entire boat before you buy it.
Step 6: Find out what's included
Before you sign a contract, sit down with the seller to discuss exactly what's included in the sale. Request a list of all equipment that comes with the boat so you can ensure you've got it all.
Step 7: Seal the deal
You're ready to make it happen! Assuming you'll have the financial details worked out by now, all that's left to do is sign the paperwork, and then the boat is yours. If you need help on financing, check out the latest rates at
cfcu.org/RV
.
Step 8: Purchase insurance and a trailer
Before you set sail, make sure your boat is adequately insured against damage. If you're self-storing, you'll also need to buy a trailer. Finally! You're ready to hit the water. Enjoy the ride!
Your Turn:
Do you own a boat? Share your best boat-buying tips with us in the comments!
« Return to "Money Matter$ Blog"
Go to main navigation