School Spotlight: Celebrating March and April with Our Community Partners!
March and April are busy months for our community partnerships! Both months provide great opportunities for Community Financial to assist with educational events at local schools and libraries within the community.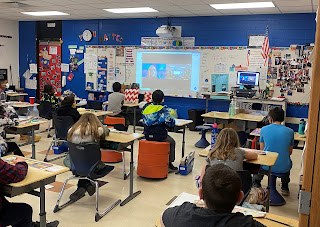 Students in Ms. Danaher's fourth grade class at Kennedy Elementary
in Livonia listened to Education Partnership Coordinator, Amy Fava,
read as a guest for "March is Reading Month."
"March is Reading Month" Fun
Community Financial has been actively supporting local libraries, school media centers, and classrooms for "March is Reading Month" for many years. This year, Education Partnership Coordinators have "zoomed" into classrooms to read some of their favorite books to students, as well as creating book read-aloud videos for teachers and media specialists alike. Prizes were also sponsored and given out to exceptional readers at Community Financial's partnering schools. "March is Reading Month" was a fantastic month, full of reading fun for everyone involved.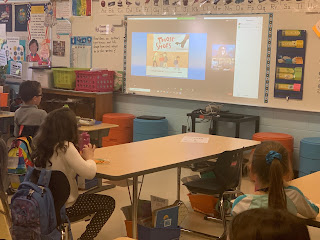 Students in Ms. Katsaros' second grade class (also at Kennedy Elementary)
listened to Mrs. Fava as a guest reader as well.
April is "National Credit Union Youth Month!"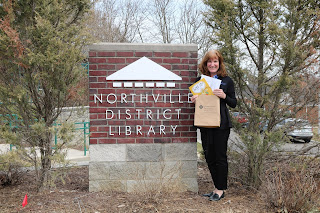 Assistant Manager/Community Relations, Mary Kerwin,
posing with a "grab and go" kit outside of
the Northville Public Library.

Community Financial is also very involved in celebrating "National Credit Union Youth Month."

Assistant Manager/Community Relations, Mary Kerwin, delivered "grab and go" kits to local libraries for kids to pick up and engage with.

Included in the "grab and go" kits were the Michigan Credit Union Foundation's (MCUF) sponsored book for youth month Give It, by Cinders McLeod.

Mary also pre-recorded a read-aloud version of the book, which was posted on many local libraries websites to enjoy.

Additionally, Community Financial has dedicated a special page on its website for "Youth Month." This page will update each week with a new lesson and activity for students to do at home. As a preview, students can learn about saving, fraud, taxes, and money features. Check out our youth month site at www.cfcu.org/youthmonth each week to watch our fun and engaging videos!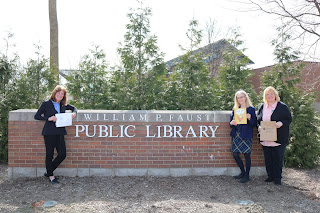 Mary posing again, this time at the William P. Faust Library
in Westland with youth librarians Claire Mueller and Cari Fry.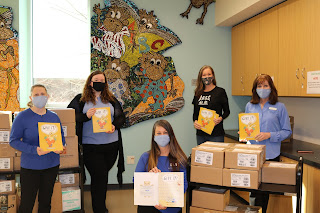 Community Financial staff helped to pack MCUF sponsored
books that (very soon afterwards) shipped to local
libraries around Michigan.
Your Turn: What is your favorite (or most helpful) money-related book?
« Return to "Money Matter$ Blog"
Go to main navigation