School Spotlight: Rosedale Elementary, A Partner in Creativity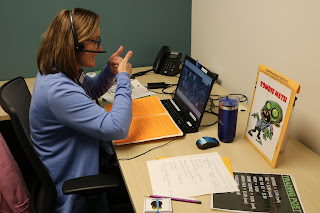 Community Financial creatively continues its school partnerships with our Student-Run Credit Union program during these unprecedented times.
This year, our school partnerships look different, but
creativity
seems to be the one constant throughout.
One way in which our creativity excels is by offering multiple, virtual-lesson options for schools. Our lessons range from reading books to students online, to complicated virtual Reality Fairs, utilizing many new technologies. Education Partnership Coordinators, who develop and execute financial and business lessons at Community Financial, are creatively developing new ways to reach, inspire, and teach students virtually.
Zombies Invade Rosedale Fourth Grade Classrooms!
Rosedale Elementary, within the Livonia Public School district, is no exception to the creative partnership that Community Financial can offer. Fourth grade teachers recently engaged their students in "Virtual Zombie Math" facilitated by Education Partnership Coordinator, Amy Fava. "Zombie Math" focuses on mental math skills, while incorporating economic concepts and of course, fun! Students are active in team survival as the "zombies" approach, and must answer mental math questions to earn money for survival items. The first team to earn all of their survival items wins and escapes the zombie apocalypse! "Supply and demand" and "inflation" are involved in surviving the zombies as well, as teams must make difficult decisions. Fourth grade Rosedale students had a lot of fun surviving their virtual "zombie apocalypse!"

Students answered mental math questions
to earn money to purchase survival supplies.
A view from the "surviving fourth grade
zombie apocalypse" classroom.
If you are interested in creative ways to virtually engage students in financial and economic topics, please contact Assistant Manager of Community Relations, Mary Kerwin (mkerwin@cfcu.org). Please also visit www.cfcu.org/youthmonth to view some student lessons to do at home.
Your Turn: How are you being creative during these times?
« Return to "Money Matter$ Blog"
Go to main navigation