Save Money by Dining In | Butternut Squash and Chicken Chili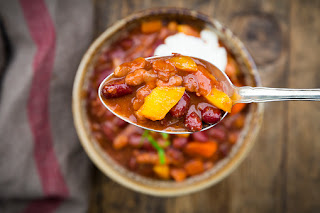 At Community Financial Credit Union, we believe financial wellness comes in many forms. One way to save money and keep yourself financially fit this fall is by dining in! Staying at home to cook is a great way to bond with friends and family while also saving money. So bring on the heat! This Butternut Squash and Chicken Chili is served with a real kick:
Yield: 4 servings
Hands-on prep time: 8 minutes
Cooking time: 25 minutes
Price per serving: $1.85
Ingredients
1 pound ground chicken
1 chopped sweet onion
2 chopped garlic cloves
1 1/2 tablespoon olive oil
2 tablespoons chili seasoning mix
1 7-oz. can diced green chiles
2 15-oz. cans rinsed black beans
2 14.5-oz. cans diced fire-roasted tomatoes
3 cups of fresh or frozen and thawed pre-cut butternut squash
1 15-oz. can chicken stock
Kosher salt and black pepper, to taste
Tacos or tortillas, diced red onion, and sliced jalapeño peppers, for serving (optional)
Directions
1. Cook ground chicken, onion, and chopped garlic cloves in olive oil in a large saucepan over medium heat until chicken is cooked through, 4 to 5 minutes.
2. Stir in chili seasoning mix and diced green chiles; cook 1 minute.
3. Stir in black beans, fire-roasted tomatoes, butternut squash, and chicken stock. Simmer, covered, until butternut squash is tender, 9 to 11 minutes. Season with salt and pepper.
4. Serve with tacos or tortillas, diced red onion, and sliced jalapeño peppers.
Your turn:
Do you have a favorite Fall recipe? Tell us about it in the comments below!
« Return to "Money Matter$ Blog"
Go to main navigation