School Spotlight: Safe Savers for the 2021-2022 School Year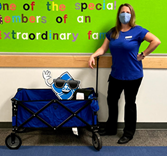 Coordinator Amy P. and D-Pozit making
the rounds on PCSA Wagon Deposit Days!
This year our Education Partnership Coordinators had to get creative! The goal was, and continues to be, ensuring that our youngest Community Financial Credit Union members stay safe while being able to reach their savings goals. Through-out the pandemic thus far, there have been a number of methods developed to enable students to make deposits at their schools. Some students even got to enjoy the experience of working the Student-Run Credit Unions while keeping socially distant!
Wagon Deposit Days at Plymouth Scholars Charter Academy
Coordinator Amy P. started Wagon Deposit Day at Plymouth Scholars Academy, complete with our mascot D-Pozit as the ride-along companion! Amy would go to each classroom with her wagon to pick up the deposits, and distribute the receipts and prizes once the deposits were complete. Students at Plymouth Scholars Charter Academy loved that they could continue saving for their goals while staying safe and healthy!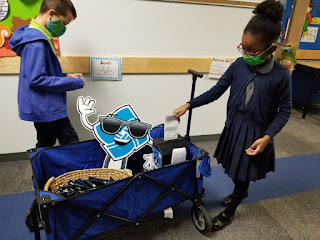 PSCA students enjoy continuing to save while being safe!
Lewiston Strong!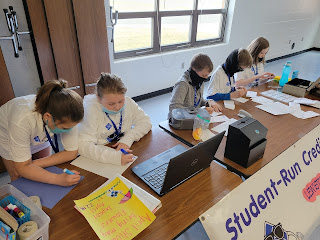 Lewiston 5th graders hard at work.
Our Lewiston kids never missed a beat with their creative and safe workaround. Students with deposits would drop them off in a secure drop box located in the office at the beginning of school. The 5thgrade student workers processed the deposits, with the help of Education Partnership Coordinator Angela C. and provided receipts and prizes to those who participated.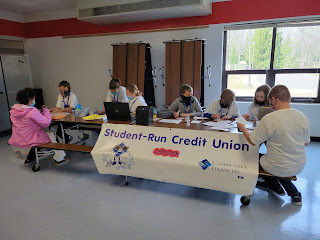 The Lewiston crew processing deposits
before sending receipts back to
classrooms with prizes attached!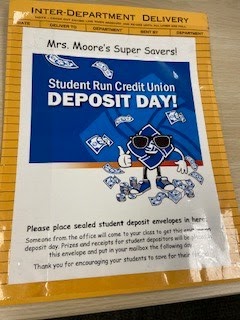 Mrs. Moore's students can safely
deposit straight from the
classroom with Deposit Envelopes!
Pivot…Pivot…Pivot
Alongside other methods, our "Drop Off/Pick Up" method has become popular in schools not permitting outside visitors. The coordinators for those schools drop off the deposit envelopes for the students with Community Financial Credit Union accounts. The teachers make sure they go home with the students, who then bring the envelopes back on the assigned deposit day. The deposits are then picked up from the office and brought back to the nearest Community Financial Branch for safe and secure processing. The Education Partnership Coordinator then returns to the school with the prizes and receipts for distribution!
Are you ready to add safe and secure deposits to your school's classrooms? For more information about Community Financial's school partnerships and how to get started today, visit
cfcu.org/schools
or contact Assistant Manager/Community Relations, Mary Kerwin, at
mkerwin@cfcu.org
today!
Your Turn! How have you had to get creative to continue moving toward your savings goals while staying safe this year? Share your tips and tricks with us in the comments!
« Return to "Money Matter$ Blog"
Go to main navigation