School Spotlight: Webster Elementary Students Learn Interviewing Etiquette Skills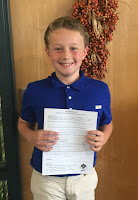 A Webster 5th grade student


(dressed for success)

posing

with
his completed job application!
Even though Webster Elementary School is only in its third year of partnership with our Student-Run Credit Union program, the students at this elementary school in Livonia are already learning valuable, transferable work skills. Every student that would like to volunteer at our Student-Run Credit Union branch must fill out a job application and participate in a job interview.
Our Education Partnership Coordinators teach students the importance of filling out their applications legibly, truthfully, and accurately. Some students at Webster even turn in attached resumes with their job applications! There are some amazing students at Webster Elementary!
After all the applications are turned in, students undergo a "best fit" interview. Students are taught to highlight their skills through a variety of questions that Community Financial team members ask. They choose three jobs they would like to perform. Depending on their highlighted skills and communication during the interview, students are assigned a job that is the best fit for them and the credit union. Here are some Webster Elementary students going through the job application/interviewing process.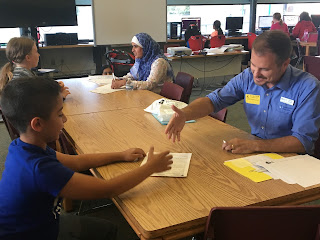 Senior Education Partnership Coordinator, Jeremy Cybulski,
reaching out to shake a student's hand before his job interview.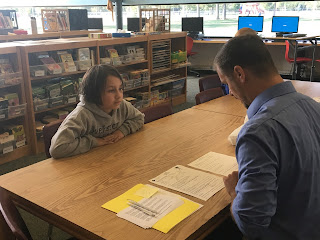 A fifth grade student actively interviewing for a
Student-Run Credit Union position at Webster.
Job Application/Interviewing Tips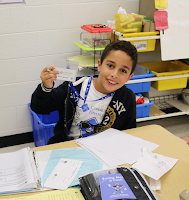 It's official! This student got the job!
Filling out a job application and going through the interviewing process is a life skill. Giving students the opportunity to do so at an early age helps them to become more comfortable with the technique. After all, it is a nerve-racking process!
Some interviewing tips our Education Partnership Coordinators stress to students include: dressing for success, offering a firm hand shake (using your right hand), being aware of body language, asking relevant questions, and being positive! Smiling is another skill coordinators communicate to help students relax. Smiling is a huge help in alleviating stress during an interview!
Here are some pictures of Webster's Student-Run Credit Union volunteers. These students successfully filled out a job application and went through their first job interview. Success looks good on them!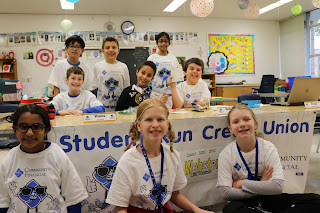 Webster Elementary Student-Run Credit Union fall volunteers.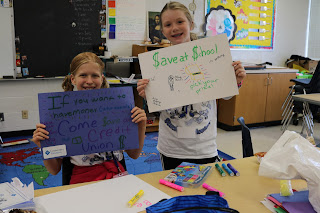 The Webster Student-Run Credit Union marketing team.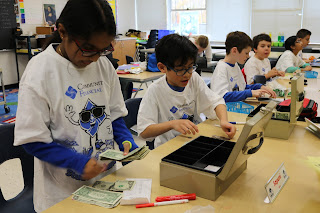 Webster's Student-Run Credit Union in action!
Your Turn:
What interviewing tips have you found to be helpful? Tell us some of your successes and/or failures when interviewing for a job.
« Return to "Money Matter$ Blog"
Go to main navigation