Celebrate Financial Literacy Month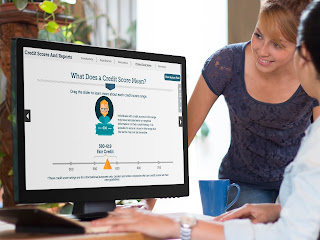 Did you know that April is
Financial Literacy Month
? Nationally established in 2000, Financial Literacy Month focuses on raising public awareness about financial literacy and the need for financial education. It also celebrates achievements in financial education and addresses new issues in the field.
Financial literacy is an ongoing issue for a majority of Americans. According to
Money Management International
, Americans carry more than $2 trillion in consumer debt. Additionally, 30% of consumers report having no extra cash, which means they cannot save and are living paycheck-to-paycheck.
Check out these helpful resources and celebrate Financial Literacy Month along with us!
Money Matter$ eLearning Center
Our
Money Matter$ eLearning Center
contains free and self-paced modules that cover key financial concepts like: saving, investments, credit scores, identity theft protection, etc. The goal is to help you improve your financial well-being with programs that assist you in making smart financial decisions.
Financial Resource Center
In our
Financial Resource Center
, you can browse through channels on a range of different financial topics including: auto buying, career planning, loan & credit management, saving & investments, tax planning, etc. Click on each channel to see more information and resources on the various topics.
Financial Calculators
Our
Financial Calculators
can be used to calculate monthly payments on an auto loan, mortgage, or credit cards, or help you plan out your budget or retirement savings. Just enter in some basic data, and the calculator will help you figure out how much you can afford to pay or what you can save.
Auto Resource Center
Our
Auto Resource Center
offers a free, online auto shopping site.. Get a quote on a vehicle, search for new or used cars, as well as car buying tips & advice. The Auto Resource Center also offers a car loan calculator to figure out what monthly payment you can afford before you go to the dealership.
Money Matter$ Blog
Our
Money Matter$ Blog
that you are reading right now offers insight on a variety of financial topics. You can browse our current and past blogs for financial tips, news and events going on at the credit union. There is a new blog post every week, so check back regularly or subscribe to our blog emails to stay up to date.
Money Matter$ Podcast
Available on both iTunes and cfcu.org, our
Money Matter$ Podcast
has a library of short, easy to listen to episodes covering financial topics such as: how to budget for the holidays and back to school shopping tips.
Free Credit Review
Community Financial also offers a
Free Credit Review
to help you understand your credit score. Our website offers a breakdown of what makes up a credit score, but if you need more guidance on how to manage your credit, simply visit a branch near you or call
(877) 937-2328
.
For more information on financial literacy and the resources Community Financial has to offer, visit cfcu.org.

Your turn:
How do you plan on celebrating Financial Literacy Month? What financial resources to do you find helpful?
« Return to "Money Matter$ Blog"
Go to main navigation