Lewiston Elementary Volunteers Celebrate Perseverance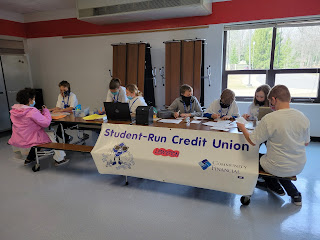 Lewiston Student-Run Credit Union
volunteers hard at work!
As another school year nears an end, Community Financial's Student-Run Credit Union reflects on the progress that students have made. Even during a pandemic, many Student-Run Credit Union members successfully set money goals, saved for their futures, and learned valuable money skills. Lewiston Elementary, located in Montmorency County in Northern Michigan, showed a lot of perseverance this year in particular. Student members and volunteers at Lewiston were great savers, workers, and goal setters, even while wearing masks and striving to stay healthy!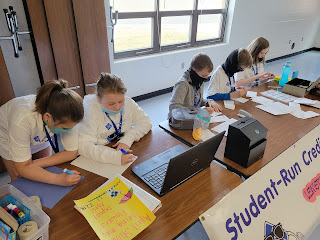 A bird's-eye view of the action!
Positive Reinforcements for a Positive Work Environment
Having a positive work environment is incredibly important to the success of any institution. The Student-Run Credit Union is no different. Each day our Education Partnership Coordinators create a fun, productive, and engaging work environment for student volunteers. Positive reinforcement is a huge piece in making sure everyone feels appreciated for the work they have done. Volunteers are given "congratulations" letters for being "hired" at the beginning of the year. They are also awarded with a celebration/party at the end of the school year for all of their hard work.
Lewiston Elementary Student-Run Credit Union volunteers will celebrate their perseverance this year with Education Partnership Coordinator, Angela Corbin, with (most-likely) an ice-cream social! The final vote will be taken soon! Being recognized for the work you have accomplished throughout the year is incredibly important for a positive work environment!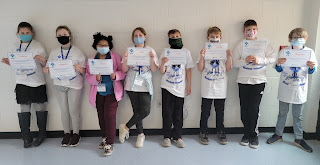 "Thank you" Lewiston Student-Run Credit Union
20-21 Volunteers (pictured with their year-end certificates)!
Your Turn:
What are some other important characteristics of a positive work environment? Share with us in the comments!
« Return to "Money Matter$ Blog"
Go to main navigation