Essential Tools for Every Homeowner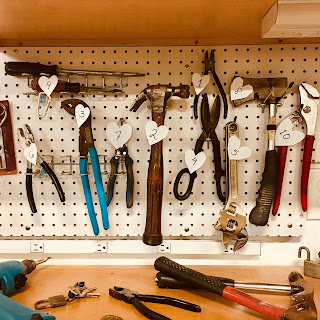 A well-stocked toolbox is important for every homeowner, but choosing which tools to pack inside that kit can be confusing. Here's a compiled guide for stocking a homeowner's toolbox at every skill level. Happy fixing!
Basic tools
If you've never pretended to be a handyman, but you'd like to have basic tools in the house in case something needs minor repair, here's what belongs in your toolbox:
Claw hammer.

From hanging up pictures to securing loose railings, a hammer is your go-to tool for most basic jobs around the house.

Screwdriver set.

It's worth investing in a set of screwdrivers so you have various sized flat-heads and Phillips-heads handy for any kind of job.

Pliers set.

Here, too, a set of different sizes and types is your best bet. Look for pliers with a good grip and that are sized well for your hands.

Adjustable wrench.

A wrench will enable you to tighten or loosen virtually anything.

Handsaw.

A handsaw is great for trimming lumber and cutting through drywall, fiberglass and other thin materials.

Utility knife.

Use this handy cutter to open boxes, hard plastic packages, shave wood and more.

Tape measure.

A retractable 25-foot tape measure will come in handy when you need to measure space for new furniture or

décor

items.

Hardware.

Keep a generous selection of screws and nails on hand in case you need one in a hurry.

Level.

A simple floating-bubble model will help keep your wall pictures and shelving straight.
The next step
Once you've filled your toolbox with the basics, and you become more skilled at around-the-house repairs, consider adding these more advanced tools to your collection:
C-Clamp.

When working on a woodworking project, a clamp will help you hold the wood in place.

Stud finder.

This ingenious tool will keep you from creating unnecessary holes or drilling where nails already exist.

Cordless drill.

While a screwdriver is great for basic drilling, tougher jobs will require a power drill.

Hacksaw.

These are great for cutting through plastic and metal pipes, tubing, conduit and wood.

Safety gear.

You'll need safety goggles, ear protection and dust masks when using power tools.

Putty knife.

Designed for applying spackle, you can also use your putty knife to remove old paint and to apply grout to tile floors and backsplashes.
Advanced tools
If you're exceptionally handy, consider adding these to your toolbox:
Sanders.

Put the finishing touches on your woodworking projects with a power sander.

Carpenter's square.

Made up of a metal ruler and interchangeable heads, a carpenter's square is used to measure level, right angles, the center of a circle and to check depth.

Table saw.

A table saw can rip, cross-cut, miter-cut, square, rabbet and apply shapes to edges of wood stock.
Your toolbox is all set! Now you'll be fully prepared for anything that needs fixing in your home.
Need help financing your home and the tools needed to keep it running smoothly? Talk to a Community Financial Sales Representative to talk about a Home Equity Line of Credit and get the flexibility of cash when you need it, no matter what it's for. Call (877) 937-2328 or come into one of our 13 branch locations to discuss your options today!
Your Turn: What do you have inside your toolbox? Tell us about it in the comments.
« Return to "Money Matter$ Blog"
Go to main navigation