School Spotlight: Thornton Creek Students Practice Professionalism
Thornton Creek Students Lead with Parent Support!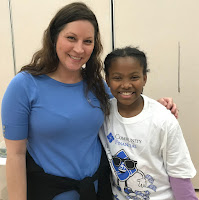 Education Partnership Coordinator,
Karie Gonczy, poses with one
of her branch managers.
Community Financial has continued to grow its Student-Run Credit Union program since it began in 1990. Thornton Creek Elementary School, in Northville, was an added partnership in 2004. Since then, the Thornton Creek "Gators" have been expert savers!
Fourth grade volunteers run the Student Credit Union at Thornton Creek, and parents like to get involved too! With the high volume of student savers at Thornton Creek, parent helpers are a welcomed asset to the program. Parent helpers assist students in counting money, record keeping, and professionalism. Education Partnership Coordinator, Karie Gonczy, assists students and parent helpers in having an exceptional experience!
Check out these photos of some of our amazing parent helpers!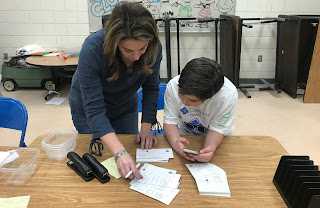 Powerful Professionalism at Thornton Creek
Students who volunteer at our Student-Run Credit Unions learn about professionalism and its importance. Professionalism is how a person conducts themselves at their job. "Powerful professionalism" is taught and reinforced throughout the Student-Run Credit Union.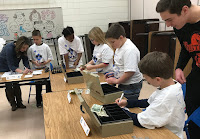 "Powerful professionalism" in action!
Volunteers are instructed to greet student members in a pleasant manner, to dress appropriately (each student receives a Community Financial t-shirt), and to keep conversations appropriate. Other aspects of professionalism reinforced are: punctuality, offering to help others, staying positive, and asking for help if a mistake is made.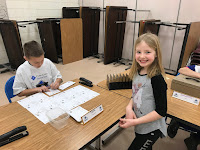 A Student Credit Union member
waits for her deposit receipt.
Professionalism is noticed and makes a huge difference in any work environment. For many of our Student Credit Union volunteers, this is their first experience with professionalism. It is important for our Community Financial team members and parent helpers to assist whenever they can, to make it a positive experience for all involved. Take a look at these Thornton Creek spring volunteers displaying professionalism on the job!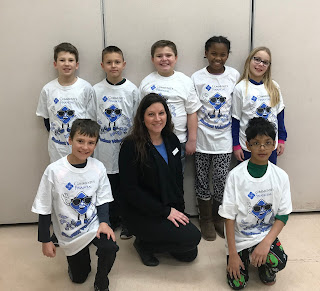 Your turn:
What other aspects of professionalism do you find important? Tell us what you think in the comments below!
« Return to "Money Matter$ Blog"
Go to main navigation