School Spotlight: Celebrating the School Year with Field Elementary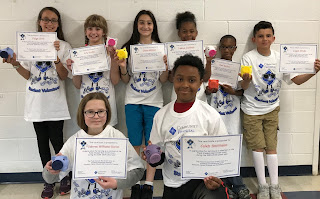 Field Student-Run Credit Union 2018-2019 volunteers
posing with their certificates of appreciation and
end-of-the-year prize, piggy banks!
Another Successful School Year Comes to an End…
Community Financial's Student-Run Credit Union program has had another amazing school year! Student-Run Credit Union members successfully set money goals, saved for their futures and learned valuable money skills throughout the year.
Our fourth, fifth, and seventh grade student volunteers learned a lot as well, such as job skills, budgeting, and professionalism. Field Elementary students in Canton showed a lot of growth this year in particular. Student members and volunteers were among some of the best savers, workers and goal setters around!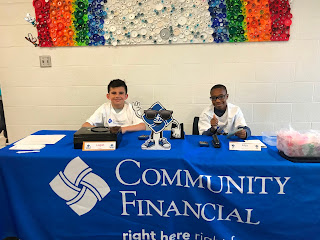 Field's Student-Run Credit Union is open for business!
2 volunteers wait to assist members with their deposits.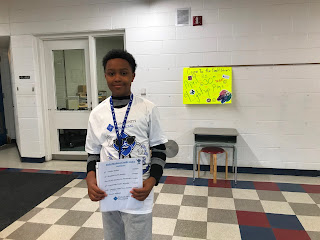 Field's branch manager is ready to get
student members from their classes.
Achievement with Positive Reinforcements
Having a positive work environment is incredibly important to the success of any institution. The Student-Run Credit Union is no different. Each day our Education Partnership Coordinators strive to create a fun, productive and engaging work environment for student volunteers.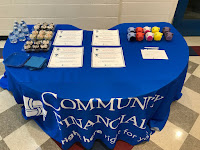 The table is set for the Field
volunteer celebration.
Positive reinforcement is a huge piece in making sure everyone feels appreciated for the work they have done. Volunteers are given "congratulations" letters for being "hired" at the beginning of the year. They are also awarded with a celebration/party at the end of the school year for all of their hard work. Celebrations look different from school to school, but they all have the same theme: thank you for a job well done!
Being recognized for the work you have accomplished throughout the year is incredibly important for a positive work environment. Here are some pictures of how student volunteers at Field Elementary were celebrated for their great work at the Student-Run Credit Union this year! Check out these fun pictures of Field volunteers enjoying their cupcakes after a wonderful year. See you in the fall!
Your Turn:
What are some other important characteristics of a positive work environment?
« Return to "Money Matter$ Blog"
Go to main navigation