Celebrate the First Day of Autumn in Style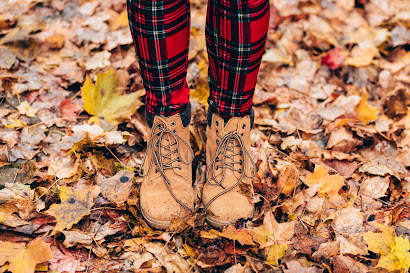 Today marks the first day of autumn, the season of apple cider, donuts, pumpkin patches, hay rides, and everything Halloween. If you're like the majority of Americans (as nearly every survey done in the past twenty years has shown), this is the season you've been waiting for! Whether you'll be first in line to get a mug of pumpkin spice latte at your local coffee shop or you've got apple orchards and pumpkin carving on the brain, we've compiled some of our favorite ways to celebrate this amazing season below!
Celebrate the Colors of the Season
One of our favorite ways to celebrate is to embrace the colors of the changing leaves! Websites like Good Housekeeping have created tutorials on making fun and colorful leaf garlandfor wherever you want to see an extra splash of fall. Or create your own DIY leaf wreathwith upcycled aluminum cans! There's nothing better than reusing and recycling while creating something new.
Change Up Your Wardrobe
Creating the perfect fall look isn't as hard as it may seem. Do you have a favorite summer dress that you're sad to see get put away as colder weather rolls in? This autumn, don't abandon your favorites! Pair a sundress with thick tights, boots, and your favorite chunky sweater. Add layers and keep your favorites at the front of your closet this season.
If you're looking to add new pieces to your fall aesthetic, you don't have to break the bank to get something fresh! Check your local second-hand stores or resale shops. The best part about autumn attire is that vintage items are perfect to pair and layer with any outfit.
Take a Road Trip
One of the best ways Michiganders know to enjoy autumn in style is with a road trip! Pure Michigan has compiled the best trips to take to see the fall colors on their website here, reaching everywhere from Kalamazoo and Grand Rapids to Petoskey and Marquette. Each trip is curated for a specific fall color specialty, such as countryside relaxation, cider mills and festivals, shorelines and lakes, and more! With so many options to pick from, Michigan has it all when it comes to fall.
Get a Taste of Autumn
Finally, our favorite way to celebrate the season is with our taste buds. Michigan apple orchards boast nostalgia, but also delicious apple-based treats. While it's always fun to travel to the nearest orchard and pick up a box of cinnamon donuts and a cup of hot cider, there are so many other ways to celebrate fall with the taste of the season.
This fall get creative with your cooking in a whole new way. Michigan Apples is a website that embraces everything amazing about—you guessed it—apples, and their recipes are crazy good. If you're a carnivore, try your hand at an Apple and Pulled Pork BBQ Sandwich! Or maybe you have more of a sweet tooth that can only be satisfied by Apple Cinnamon Rolls or the ever-popular Candy Coated Apples. Michigan Apples also provides healthy living options for their recipes as well, like Baked Squash with Apples & Chicken Sausage or the delicious Apple Orchard Salad. With step-by-step instructions, this website makes cooking easier (and tastier!) than ever before.
Your Turn: What's your favorite way to celebrate fall? Tell us about your autumn adventures in the comments!
Community Financial neither endorses the information, content, presentation, or accuracy nor makes any warranty, express or implied, regarding any external site.
« Return to "Money Matter$ Blog"
Go to main navigation