January is National Blood Donor Month, 3 Reasons to Donate Today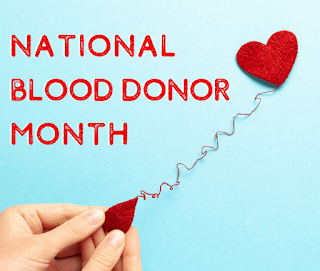 With the holidays behind us and thoughts of gratitude and kindness fresh on the brain, let's talk about donation! Specifically blood donation because January is National Blood Donor Month.
Why should you donate? Take a look at these blood supply statistics from the American Red Cross and the Community Blood Center:
1.
Every 2 seconds someone in the United States needs blood.
Blood donations are essential for everything from surgeries to cancer treatments and chronic illnesses. According to the American Cancer Society, about 1.7 million people are expected to be diagnosed with cancer each year. Many of these individuals will need blood, sometimes daily, during their treatments.
2.
1 donation can potentially save up to 3 lives.
The blood donation process usually only takes about ten minutes and won't decrease your strength. After donating, your body replaces the fluid in hours and the red blood cells within four weeks, meaning that you can donate blood approximately once every 56 days if you meet the donation requirements. For 10 minutes of your time as often as every two months, you could save so many lives and be the reason someone gets healthy today.
3.
Blood and platelets cannot be manufactured; they can only come from volunteer donors.
About one in seven people entering a hospital will need blood, but only about 3% of age-eligible people donate blood yearly. If 1% more of Americans gave blood, blood shortages would disappear for the foreseeable future.
Can you imagine a world where blood donation is common-place? Where patients can count on receiving the care they need without worrying about shortages? Let's do our best this National Blood Donor Month to help make that world a reality!
Your Turn:
Have you or a family member donated or received donated blood? Tell us about your experience in the comments.
« Return to "Money Matter$ Blog"
Go to main navigation