Ways to Kick the Quarantine Blues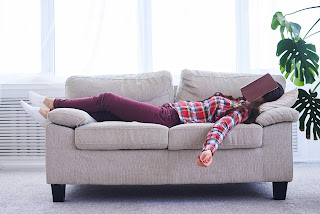 If you're having a hard time with the quarantine during these unprecedented times, you're not alone. The COVID-19 outbreak has changed a lot of things, including our daily routines, which can trigger stress and health problems for many individuals. While we at Community Financial are always available to help with your financial stressors, we have also come up with a variety of ways to help kick those annoying quarantine blues.
While phone calls, email, and texting are all incredibly helpful to keep in contact with loved ones during this time, it is video that experts and physicians are recommending the most. Being able to visually see your friends and family allows you to see body language and facial expressions, all little things that you don't realize can impact communication more than even the words someone says. Just seeing a friend laugh and smile can help brighten your day and give you the feeling of being around people you care about, even from miles away!
Take a Break from the News
While it's important for many people to stay up to date with the news, it's also problematic due to the amount of negative imagery and information we are being bombarded with. Constantly hearing about the pandemic can be not only scary, but stressful as well. Make a pact to stay away from the news—including social media, which circulates most news sources—for a set amount of time, whether that's a day or a week. Allowing your body a chance to unwind away from negativity will help you feel refreshed.
With gyms closed due to stay-at-home efforts, many gyms and personal trainers are taking their expertise to the web. Exercising regularly can keep your mind and body healthy, so try something new! Go on YouTube and find a new meditation technique or take the plunge and sign up for that exercise program you've been eyeing up on Facebook for the past couple months.
Trying a new routine or exercise at home can also alleviate worries of "looking silly" while you learn something new. Or, for the fearless out there, challenge yourself to stream your workouts through Instagram or Facebook Live to keep yourself accountable and share your progress with others.
Many people may be using this time to clean and purge in their homes, which is a great way to spend time. But for those of you who just need to unwind and press pause, there's no pressure to "get your life together" during this time. COVID-19's pandemic has been a traumatic experience and it has put a lot of extra worries and stress on many people. We need to forgive ourselves for being stagnant during this time and allow our bodies to get the relaxation they crave.
Turn off your electronics for an afternoon and open the windows, letting the fresh air in. Read your favorite book or watch your favorite guilty-pleasure movie. Make yourself a comfort meal of your favorite foods—or order in your favorite meal from a local restaurant!—and cuddle up on the couch under five blankets. Take a break each hour to stretch or do meditation. There's no wrong way to unwind, just make sure you're focusing on yourself and your well-being.
Your Turn:
Do you have a go-to way to kick the quarantine blues? Share your thoughts in the comments.
During this time, it's extremely important to focus on your physical and mental health. There are many resources available for anything you or a loved one are going through, including those through the Centers for Disease Control and Prevention (CDC), which are particularly educated on stressors during times such as these. For more information and resources on coping with stress during COVID-19, visit the
CDC's dedicated page here
.
Substance Abuse and Mental Health Services Administration's (SAMHSA's) Disaster Distress Hotline: 1-800-985-5990 or text TalkWithUs to 66746.
People with deafness or hearing loss can use their preferred relay service to call 1-800-985-5990.
« Return to "Money Matter$ Blog"
Go to main navigation