Celebrating 10 Years of Warming Hearts & Homes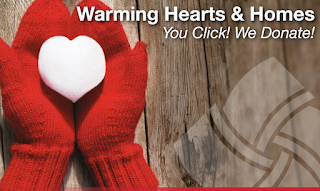 Community Financial is celebrating 10 Years of our Warming Hearts & Homes charitable giving campaign! This year, to celebrate 10 amazing years of giving, we're donating $50,000 throughout the month of December to local nonprofit organizations that provide heat, food, shelter, and clothing to Michigan families in need.

Did you know that each winter millions of Americans struggle to provide heat for their families? Just in Michigan, more than 178,000 households need a home heating credit to keep their furnaces going. Not only that, but 1.9 million Michigan residents are dealing with food insecurity—600,000 more than the year prior. The statistics are staggering.

We never want to see another family choose between paying utilities and putting food on the table. That's why Community Financial remains dedicated to providing extra support to the amazing Michigan charitable organizations who help residents keep warm, fed, clothed, and sheltered.

As a member of our community, we would like to invite you to participate in this year's campaign by getting social with us! Each week in December we will post on social media about the different organizations below. Like, share, comment, and retweet on social media posts or text "Warm" to (877) 937-2328 each week to get involved! For each text or interaction we receive, Community Financial will donate $25 to the organizations of the week. Each charity will receive up to $10,000 between November 28th and December 31st.

• Week 1: THAW (The Heat & Warmth Fund)

• Week 2: Habitat for Humanity

• Week 3: Salvation Army - Coats for Kids

• Week 4: Forgotten Harvest and the Food Bank of Eastern Michigan

• Week 5: Samaritas Family Center, The Hope Warming Center, The Refuge, The Patriot Place, and Hope Shores Alliance

Giving back to your community has never been easier! Together we can make a difference in our communities this holiday season. To learn more about Warming Hearts & Homes campaign, visit cfcu.org/warms.

"I love the donations to our communities," says Community Financial member, Patricia G. "These nonprofit organizations are so deserving and appreciate the donations. Thank you Community Financial for all you do for our communities!"
Don't Forget to Get Involved!
•
Like, retweet, or reply to our posts on Twitter –
@cfcreditunion
#CFCUwarms
•
Text "Warm" to
(877) 937-2328
« Return to "Money Matter$ Blog"
Go to main navigation