School Spotlight: Gallimore Volunteers Multitask at the Student-Run Credit Union!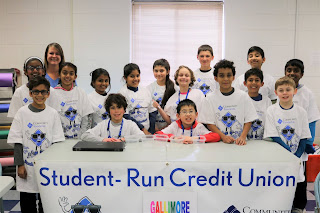 Gallimore Elementary Student-Run Credit
Union winter volunteers with Education
Partnership Coordinator, Julie Blaylock.
Gallimore Elementary School in Canton has been a partner with Community Financial for ten years! Since the Student-Run Credit Union's program introduction in 2010, Gallimore has evolved from being a standard K-5 elementary school, to a 3-5 district school for talented and gifted students. Community Financial's involvement at Gallimore has evolved as well.
Education Partnership Coordinator, Julie Blaylock, works with student volunteers who typically embrace challenges with open arms.
Julie finds creative ways to challenge Gallimore students' abilities and thinking, usually by multitasking. Here are some pictures of student volunteers multitasking on the job!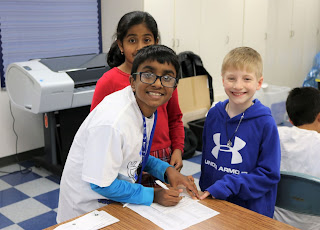 A student branch manager assists with recording
account numbers, in between traveling to
classrooms to get student members.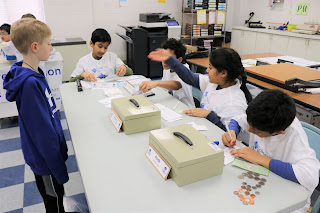 Student tellers counting and recording deposits.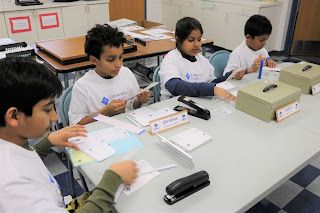 Student tellers multitasking by putting labels on
envelopes for future deposits while working.
Marketing representatives create
beautiful posters that help advertise
the next Student-Run Credit Union.
Multitasking Money Goals Pays Off in the Future
Believe it or not, learning how to multitask in elementary school is a good habit to acquire when dealing with your finances! Multitasking savings goals can pay off. Far too often, people try to accomplish one savings goal at a time. "As soon as I pay off my student loans, I will start saving for a house." "As soon as my credit card debt is paid off, I will start saving for retirement."
Paying off any debt is a well-intentioned goal; however, it should not come as a sacrifice to other goals. Multiple goals can be accomplished simultaneously. Starting and maintaining a regular savings habit for each of your goals is a good start. Put money aside monthly for all of them. Also, keep in mind that the sooner your money is invested, the sooner your investment gains can begin!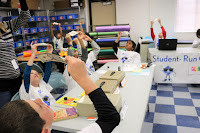 Student volunteers learning fun facts
about the five dollar bill while
they wait for members.
Want to start saving today? Community Financial has many different savings account options to help you achieve your goals. Please visit
cfcu.org/savings
to learn more.
Your Turn:
Which savings account options do you find most helpful for your savings goal needs?
« Return to "Money Matter$ Blog"
Go to main navigation