School Spotlight: Bentley Elementary Students Benefit with the Student-Run Credit Union and Junior Achievement Programs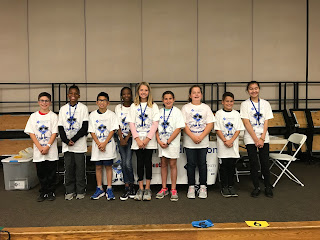 Bentley Elementary Student-Run Credit Union fall volunteers
Community Financial is proud to partner with Bentley Elementary in Canton for its thirteenth year in partnership. Fifth grade students help to operate the Student-Run Credit Union and assist student members with money management skills.
Student volunteers are "hired" in September and work in shifts during the year. Volunteers are taught job-related skills, such as professionalism, organization, and money handling.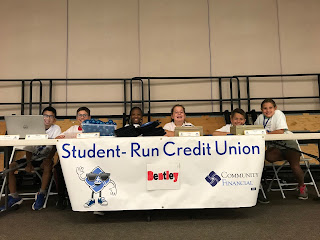 Student volunteers waiting to assist members in saving their money.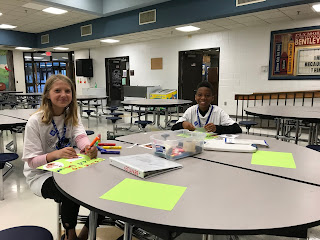 Student Marketing Representatives hard at work
promoting the Student-Run Credit Union at Bentley.

Junior Achievement Thrives at Bentley
Junior Achievement (JA) is a volunteer taught curriculum that promotes work-readiness skills, entrepreneurship, and financial wellness. Community Financial offers JA to all school partnerships. Education Partnership Coordinator, Erin Ilg, in addition to managing Bentley's Student-Run Credit Union, teaches JA to every grade at Bentley.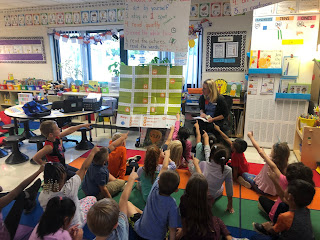 Education Partnership Coordinator, Erin Ilg, teaching first grade students
about businesses and maps from the Junior Achievement curriculum.

First grade students showcase pictures of themselves
doing a job, another great topic taught in Junior Achievement.
Students learning about their needs and wants,
lesson number two for first grade Junior Achievement students.
Each classroom is taught five sessions of Junior Achievement.
Sessions are jam-packed with work-readiness skills, financial and/or entrepreneurial education.
Whether it's learning about needs and wants, running a business, or learning how to get and
keep
a job, JA is an incredible asset to the school year at Bentley.
If you would like more information about adding Junior Achievement classes at your school, please contact Mary Kerwin at
mkerwin@cfcu.org
.
Your Turn: What do you find important for students to learn about entrepreneurs, work-readiness, and/or financial education?
« Return to "Money Matter$ Blog"
Go to main navigation