Using 20/20 Vision in Your Financial New Year's Resolutions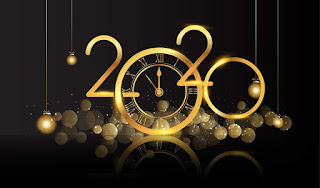 With 2020 around the corner, it's time to get into the New Year's Resolution spirit! But instead of doing typical goals, like losing weight and taking that well-need vacation, let our 20/20 vision help you set up some great financial resolutions for the New Year!
1. Cut Down Your Credit Card Usage
Just like the addictive nature of smoking, credit card usage can be bad for your health! Your financial health, to be exact. Monthly payments toward credit card debt can drain your income and the revolving door keeps you from ever getting ahead of your finances. Beyond the immediate concerns, long-term credit card dependency can ruin your credit and hurt your chances of enjoying a long, happy retirement.
Make a resolution to lose your credit card "addiction" in 2020. If you're keeping a card "for emergencies," then take it out of your wallet. Put the card in a safe place and only use it in a genuine emergency. Out of sight, out of mind.
Addicted to plastic? Use your Community Financial debit card to maintain the convenience of plastic without the extra pressure of interest rates. If you do need a credit card for emergencies, chances are your Community Financial card has the lowest rate around. Keep that and dump the rest!
2. Trim the Fat from your Budget
This year, fall back in love with yourself without the extra pressure of putting "lose weight" on your resolutions list. Instead, trim the fat on your budget!
Make a plan to sit down in 2020 and figure out exactly how much money you spend each week. Look for places you can make cuts without sacrificing the things you enjoy. Pay special attention to grocery shopping and meals out—you'll never expect just how much meals out add up.
Don't feel like you have to give up everything at once. If you're eating out twice a week, don't try to go immediately to zero. Just as you need to start slow when working out to avoid injury, feel free to start slow with cutting back your expenses. Slow and steady will help you win the 2020 race.
Investing in yourself is the perfect way to start the new year. Besides eating well and keeping yourself healthy with exercise, it's time to start making sure your future is healthy too!
To set yourself up for a bright financial future, start planning for your retirement. Make 2020 the year you max out your retirement contributions. If you don't have an IRA or similar retirement account, speaking to a Community Financial Investment and Insurance Representative is a free and easy place to start.
Start with monthly automatic contributions and then increase the amount as you get used to your new budget. Invest in yourself and the future you want!
4.

Save for the Big Events
The holidays are an expensive time of year. Many families finance their gift-giving with credit cards, and that bill will come due in the next few weeks. Talk about stress! Starting 2020 in a financial hole can hamper your plans to live a stress-free year.
Instead of beating yourself up about it, resolve to do better next year. Put money in a Certificate of Deposit now that matures by next year's holiday season and/or make regular deposits to a dividend-bearing account, like Community Financial's new Premier Checking. When December 2020 rolls out, you'll be thanking yourself for thinking ahead.
Your Turn:
What are your Financial New Year's Resolutions? Share them with us in the comments below!
« Return to "Money Matter$ Blog"
Go to main navigation