Make a Splash This Summer with $100 Cash from Sprint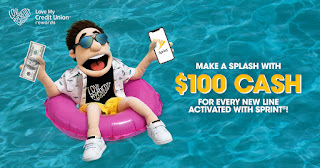 Summer is here and the temps are heating up outside. Even if you can't make it to the nearest pool, you can still be swimming this summer—in cash! Did you know Community Financial members can get $100 cash for every new line activated with Sprint®?
Get $100 deposited into your account for every new line activated with Sprint, now available on unlimited lines! It's just one more perk of being a credit union member!
Here's how to get cash rewards for every new line you activate with Sprint:
Add a line to your new or existing Sprint account and mention that you're a credit union member.
Register at LoveMyCreditUnion.org/Summer.
Cash rewards will be deposited directly into your credit union account within six to eight weeks.
Already a Sprint customer?

Register now to receive a $100 loyalty cash reward every year starting one year after registration.
Claim your rewards today!
While you're out enjoying the sunshine this summer don't forget to claim your rewards. Visit
LoveMyCreditUnion.org/Summer
to learn more.
« Return to "Money Matter$ Blog"
Go to main navigation