Celebrating International Credit Union Day




As a proud Michigan credit union, Community Financial was pleased to celebrate International Credit Union (ICU) Day® on October 21, 2021. Since 1948, ICU Day has embodied the spirit of the global credit union movement, recognizing the history, achievements, and hard work that goes into creating the best member experience. This year, we celebrated the 73
rd
anniversary of ICU Day with the theme "Building Financial Health for a Brighter Tomorrow."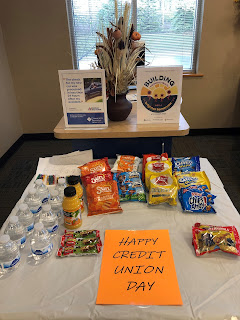 Our Michigan Avenue branch celebrated
International Credit Union day with
drinks, snacks, and coloring pages
to help share the ICU Day spirit!
Are you on track to build a brighter tomorrow with your financial health? Community Financial is here to help, no matter what your finances look like. Your credit union membership provides a variety of benefits:
Membership is the Foundation, Not Profit
As a member of a credit union, you own a piece of the organization. At its most basic level, credit unions are people pooling their money to provide each other with affordable loans. People helping people. Because credit unions are founded on membership, we can focus on offering superior service and policies that are member-centric.
Financial Wellness is a Priority
One of the many great things about being part of a credit union is that since we're focused on our members, your financial wellness and education is a priority. Community Financial Credit Union provides a variety of educational tools, including a dedicated Financial Resource page, eLearning Center, financial calculators, financial counseling, and more.
Lower Fees
Banks earn much of their profit through high fees and pushing unnecessary products on their customers. While credit unions will also have some fees attached to products and services, these tend to be much lower than those you would find at banks.
Better Interest and Dividend Rates
Credit unions offer higher dividend rates on savings accounts and lower interest rates on loans. Credit unions only need to cover operating costs, and all the money we save is passed down to our members in the form of favorable rates, member rewards, educational services, community giving, scholarships, increased operations, and more.
Interested in learning more about how credit unions work? Visit cfcu.org or call our Member Contact Center at (877) 937-2328 and let Community Financial show you the credit union difference today!
Your Turn: What's your favorite part about being part of a credit union? Share your thoughts with us in the comments!
« Return to "Money Matter$ Blog"
Go to main navigation