Thumbs Up For Charity is Back March 12th!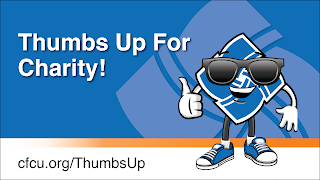 We often give a "thumbs up" to things we like such as Facebook statuses and Netflix shows. During the month of March, Community Financial is making it easy for you to give a "thumbs up" to your favorite charity with our 5th annual "Thumbs Up for Charity!" program! So how does this program work?
Starting
March 12th
, you can nominate a local organization to receive recognition for its good work in your community, and a chance to receive a financial donation up to $10,000! Nominations will be accepted at
cfcu.org/ThumbsUp
until Friday, March 30th.
Once all the nominations have been received, five finalists will be chosen and voting will begin on
April 9th
. The community will be able to vote for one of the five nominees until April 20th, so don't miss this chance to give recognition to the group you think deserves it most! Winners will be announced on cfcu.org by April 25th.
Community Financial will be donating $25,000 through this exciting program:
The charity that receives the most online votes will receive the grand prize of $10,000!
Second and third place winners will each receive $5,000.
Fourth and fifth place will each receive $2,500.
"The nonprofit groups in our communities work hard and we are proud to support them throughout the year," said Community Financial's Manager/Community Relations Natalie McLaughlin. "We want to provide the residents of our communities a chance to tell us which groups they think deserve recognition, and 'Thumbs Up for Charity!' gives them that opportunity."
If you'd like to nominate a charity, please make sure that it is a registered 501(c)(3) organization, recognized community support organization, or associated with an accredited educational institution serving the communities within Community Financial's field of membership.
For complete contest rules and more information about the "Thumbs Up For Charity!" program, visit
cfcu.org/ThumbsUp
. Now is your chance to make a difference in your community!
« Return to "Money Matter$ Blog"
Go to main navigation