#ThankfulThursdays are Back! What are You Thankful For?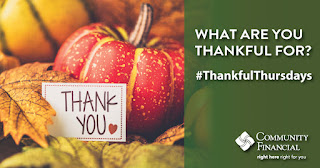 Did you know that November is "National Gratitude Month?" With Thanksgiving almost here, it's the perfect time of year to practice being grateful and appreciative for what we have.
At Community Financial, we are so grateful for our members and the communities we serve. To help spread our gratitude this November, we are bringing back our #ThankfulThursdays program. Every Thursday through November 29th, we will make a donation to local food initiatives in Michigan. In total, we will donate $60,000 to help feed our communities! Here's a list of the organizations we will be donating to this November:
November 1 November 8November 15November 22 November 29
Facebook
,
Twitter
,
Instagram
) every Thursday, for updates on the program and photos/videos from the selected organizations. #ThankfulThursdays is just one way we can show our appreciation. What are you doing this November to show gratitude?
« Return to "Money Matter$ Blog"
Go to main navigation