6 Times a Bargain is Not a Bargain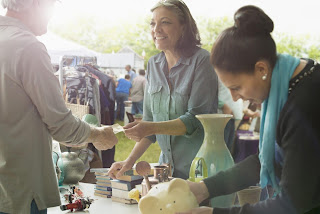 With the biggest spending season of the year looming ahead, it's time to brush up on your shopping smarts. Don't get caught springing for something you can't afford! This year, give yourself the gift of an intact budget and a credit card balance that doesn't haunt you for months or years to come. Here's when that steal of a deal is not such a bargain after all.
1. When you don't need it
The price might be right. But, if the heavily marked-down item is one you don't need, you're just blowing money you could be using for savings or to purchase the stuff you actually do need.
2. When it's a faulty product
Sometimes, it doesn't pay to be cheap. If an item is retailing at a ridiculously low price, hold it up to this checklist to determine its quality:
Where was it manufactured? If the product has a designer label, but also has a "Made in China" tag, you're looking at a cheap knockoff that isn't such a bargain after all.
Are there any noticeable defects or missing parts?
Does the item look worn out?
Is the material cheaply made?
3. When it's going to go bad before you can use it
Before buying in bulk at your local warehouse store to snag a great deal, be sure the food won't go bad or get stale before you can eat it.
4. When the "sale price" is the highest the item has ever been sold for at this location
Retailers sometimes feature an item's price as a "sale price" when, in reality, the store has never sold it for more than the tagged amount. The store might be basing its sale price on an inflated Manufacturer's Suggested Retail Price (MSRP). But, if the MSRP was artificially inflated to begin with, you're not getting a bargain.
Other times, the item will come with a pre-marked-down MSRP. The manufacturer's label might read: "Original price: $49.99. Our price: $39.99." Of course, the item was never sold at $49.99. If an item is really marked down, you'll see another price tag slapped on top of the manufacturer's label with the newer, lower price.
5. When you need to mail in a rebate
Rebates are a retailer's best friend. Most of us are too lazy or forgetful to mail them in. We instead end up paying full price with the retailer getting the last laugh. Only pick up rebate items with an instant at-the-register rebate.
6. When it's part of a liquidation sale
Avoid liquidation sales. While shoppers sometimes snag great deals, they are riddled with rip-offs. Retailers post signs claiming "Everything Must Go!" – but that's where the honesty ends. The "Rock Bottom Prices" they advertise are often as high as the original MSRP – or even higher. The store owners are depending on shoppers to assume that all items are bargain-priced just because they're at a liquidation sale. Proceed at liquidation sales with extreme caution.

Your Turn:
Have you ever snagged a great deal only to realize later that it wasn't quite the bargain you thought it was?
« Return to "Money Matter$ Blog"
Go to main navigation