School Spotlight: "March is Reading Month" at Edison Elementary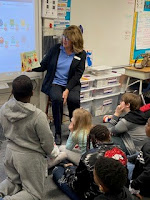 Mrs. Mueller's 4th grade
class at Edison Elementary
listen to EPC Michelle R. read
"Joe the Monkey Saves for a Goal."
Happy March is Reading Month! Community Financial's Education Partnership Coordinators participate in many "March is Reading Month" activities in our partnering schools, and are very busy reading to students this month!
Financial education is represented in several fun and engaging books for students of all ages. Fourth grade students at Edison Elementary in Westland, for example, recently listened to Education Partnership Coordinator (EPC), Michelle R., read "Joe the Monkey Saves for a Goal." With this book, and many others in the Money Mammals series, students can learn about saving their money at an early age in a fun and engaging way.
Financial Literacy, Kindergarten through Fifth Grade
At Community Financial we believe that financial literacy can, and should, begin at an early age. There are lots of books for elementary students that help with saving, earning, spending, donating, and other general money concepts. Education Partnership Coordinators read many of these books yearly to elementary students.
Below is a list of enjoyable books for younger students to begin their journey with financial education:
March is Reading Month provides
Community Financial coordinators
the opportunity to read financial literacy
and readiness books to students.
How the Second Grade Got $8,205.50 to Visit the Statue of Liberty, by Nathan Zimelman
Saving Like a Sloth, by Markus Heinrich
Those Shoes, by Maribeth Boelts
Money Monsters: The Missing Money, by Okeoma Moronu
Walter and the Wallet, by Billy Bloom
You Can't Buy a Dinosaur with a Dime, by Harriet Ziefert
Lemonade in Winter: A Book About Two Kids Counting Money, by E. Lockhart
Joe the Monkey (Money Mammals book series), by John Lanza
If you would like more information about our Student-Run Credit Union program, or about other financial education books or presentations, please contact Assistant Manager/Community Relations, Mary Kerwin, at mkerwin@cfcu.org.
Your Turn: What are some other great books that teach students financial literacy? Share your favorites with us in the comments!
« Return to "Money Matter$ Blog"
Go to main navigation