Get Cooking with Community Financial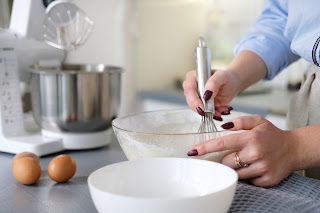 As we continue into 2022, many of us here at Community Financial have already started our New Year's Resolutions. As you may know, the majority of resolutions have already been discarded by this time of year. However, sticking to your goals of healthy eating, exercise, and mindfulness can be so much easier when you share the practice with others!
Courtesy of Community Financial's Innovation Committee, a group made up of team members across all departments, we are happy to share our New Year, New You Recipes and Connections initiative! Throughout March and April, our team members have been collaborating to keep our bodies and minds working at full speed. Below, we've compiled a list of the top comments, recipes, and more so you too can practice healthy habits this spring.
Get Cooking:
The top recipe of March was the "Crispiest Sweet Potato Chicken Nuggets," which combines the healthy aspects of sweet potatoes with the yummy nostalgia of chicken nuggets! Some of our team members even altered the recipe to include ground turkey, which was a crowd favorite for children and adults alike. For about $8, this recipe makes 24 nuggets to feed the whole family. You can download this delicious recipe from babaganosh.org/sweet-potato-chicken-nuggets.
Another top recipe included the "White Bean Caprese Salad," which offers 8g of protein and 4g of fiber for only 142 calories a serving! You can even substitute white beans for garbanzo beans, or add in fresh spinach for an extra kick of iron in your diet. You can download this delicious recipe at skinnytaste.com/white-bean-caprese-salad.
Embrace Exercise:
For those looking to build muscle-mass or strength, our team members also had their favorite workout regimes to share. "Lunges and calf-raises for leg strength," suggested Technical Writing Specialist, Drew F. "When you want to take it to the next level, you could buy a kettle bell," he added, pointing out that kettle bells are a great strength-training item for both arms and legs.
Looking to get into new exercises at home? Look no further than the internet! Talent Development Specialist, Taylor M., shared how HASfit (Heart and Soul Fitness) has something for everyone! Beginner routines, High Intensity training, and programs designed specially for seniors and those with low-mobility are all available for free on YouTube or through their website at hasfit.com.
Practice Mindfulness:
Mental health is such an important component of your body's overall well-being, but doesn't necessarily get the attention it deserves. Community Financial team members came together to share their favorite mindfulness tips, understanding that feelings of stress and pressure are incredibly common and shouldn't be stigmatized.
Member Service Representative, Alicia G., shared how she likes to practice mindfulness by taking 30 second breaks throughout the day to just be present with yourself. This practice allows you to ground yourself in reality, letting your thoughts come and go without judgement, and just breathing. VP/Marketing, Sarah C., added that her favorite mindfulness app is called Calm, (available for both Apple and Android products) and provides not only mental health tips, but also meditation and bedtime stories for when your mind feels overwhelmed at night.
Remember, if you or someone you love is feeling stressed or overwhelmed, you are not alone. You can find a variety of Michigan and nation-wide resources below.
Michigan Coronavirus Mental Health Resources
CDC "People Seeking Help" Specialized Resources: To take advantage of specialized resources and hotlines, visit the CDC's "People Seeking Help" webpage. This website offers resources for a variety of topics, including LGBTQ+, disaster coping, and children's mental health.
Stay Well Counseling Hotline: To connect with trained crisis counselors, dial the free, confidential hotline at 1?888?535?6136; press 8 when prompted.
National Suicide Prevention Lifeline: Access free and confidential emotional support by calling 1-800-273-8255 or utilizing their online resources and support groups.
Your Turn: Do you have favorite healthy recipes, exercise routines, or mindfulness techniques you think others would love too? Share them with us in the comments!
Community Financial neither endorses the information, content, presentation, or accuracy nor makes any warranty, express or implied, regarding any external site.
« Return to "Money Matter$ Blog"
Go to main navigation