5 Side Hustles Anyone Can Do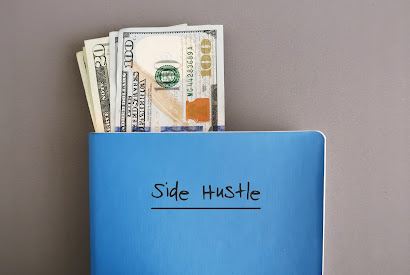 Working one job may be turning into a thing of the past. According to a 2019 study, almost 45% of Americans (roughly 70 million people) report having some sort of side hustle. About a third of those surveyed also indicated that their side income went toward regular living expenses. For Millennials, this number is even higher with 50% reporting side hustles—and nearly 40% of these individuals are using the money to pay for monthly expenses such as utilities, rent, and student loan debt.
With side hustles becoming a regular part of life for millions of Americans, we've compiled a list of some of the easiest ways to start earning extra money in your free-time.
1. Play with Pets
If you're a fan of furry friends, pet sitting/walking is one of the easiest—and most fun!—ways to get some extra cash. Websites like Care.com offer distinct options for pet sitters to find extra employment! Before using their site, make sure to check Care's Safety Guidelines to side hustle responsibly and safely.
Don't want to go through a website? Ask around and see if any of your family and friends need a pet sitter! Many full-time workers with dogs need someone to let out their pet and/or walk it during the middle of the day. Walking dogs could even make you as much as $25 an hour!
2. Be a Social Media Guru
Offer your services to local businesses as their social media brander. Depending on your skill set, you can write the company blog posts, manage their Facebook page, post new pics on Instagram and send out their tweets. Websites like Fiverr and Freelancer can also help facilitate this side hustle.
3. Yard Work
Yard work is a side hustle staple for a reason, and it's not just for grade schoolers looking for some extra summer cash! Where there are homes there are yards, and where there are yards there are people who need yard work to get done. And, if they're like 40% of Americans, they're looking for someone to hire that can do the yard work for them. Charge by the job or by the hour, and watch your lawn maintenance skills grow you extra cash!
4. Turn Surveys into Cash
Make the time you spend online count by taking surveys on sites like Survey Junkie and Swagbucks. What better way to spend your downtime than answering some questions and getting paid for it? As always, be sure to make sure the site you're using is reputable before inputting any information—and never give away your personal details like your social security number or passwords.
5. Join the Hype
The ride-sharing giant, Uber, allows you to set your own schedule and decide how many hours you want to devote to driving passengers. Likewise, food delivery apps such as DoorDash and GrubHub allow you to do the same. DoorDash in particular also offers peak-pay for high delivery time slots (like 4-7pm) which will increase your hourly rate above normal. These side hustles allow flexibility, making them perfect for those who work a regular 9-5 job as well as those who have rotating schedules, such as retail workers.
With all side hustles, please be sure to follow safety procedures and be aware of your surroundings. When working with or around others, please follow your local COVID-19 safety procedures, such as wearing a mask that covers both your mouth and nose, and using hand sanitizer/washing your hands often with soap and water.
Your Turn: Do you have a side job you love? Tell us about it in the comments.
Community Financial neither endorses the information, content, presentation, or accuracy nor makes any warranty, express or implied, regarding any external site.
« Return to "Money Matter$ Blog"
Go to main navigation