School Spotlight: Orchard Hills Student-Run Credit Union Volunteers Excel at Organization!
Organization is one of the skills Education Partnership Coordinators strive for at our Student-Run Credit Union branches. It is important for students to understand the value of organization, especially when handling cash.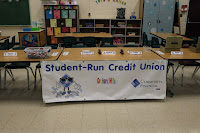 Organization is the key to success
at the Student-Run Credit Union!
Fourth grade students at Orchard Hills Elementary in Novi are exceptional at this skill. Student tellers are taught to count cash and coins in ways that ensure accuracy. The tellers also rely on accountants and computer operators at our student branches to make sure their totals are correct. Dual control is the term we use when students are checking with one another to ensure absolute accuracy. This task is easier with a lot of organization.
Here are some pictures of Orchard Hills students ensuring accuracy at their Student-Run Credit Union branch.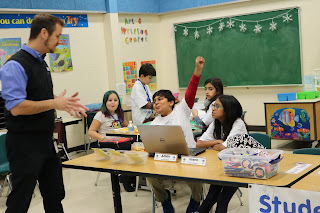 Senior Education Partnership Coordinator, Jeremy Cybulski,
instructs students on how to perform their jobs.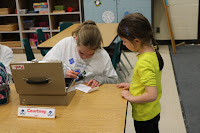 Student tellers record each deposit made, making
sure mistakes are minimal.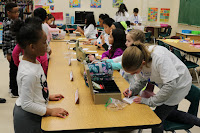 Student volunteers work together to ensure organization
and therefore accuracy with members' deposits.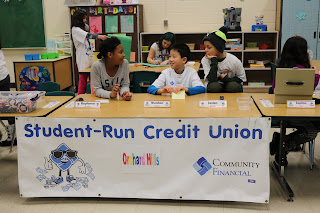 Student accountants ready to write receipts for members.
Just another way to make sure that the team is organized and accurate!
The Importance of Organizational Skills in the Workplace
Good organizational skills are an asset to any job. People who are organized are accurate, on-time, successful individuals! One of the key components to organization is having a to-do list. Student-Run credit union volunteers have detailed lists to help them perform their specific jobs. Our student branch managers, for example, are given a precise list of times to pick up student members from class to make their deposits. They are also trained in organizing the member line, making sure the line is not too long, and that volunteers are consistent in the service given.
At the end of our Student-Run Credit Union deposit day, volunteers organize cash, coins, and checks in a systematic way to ensure accuracy and to account for any mistakes. Believe it or not, part of having good organizational skills is to understand that you are NOT perfect! Preparing for mistakes is an excellent way to ensure habits to fix them!
All of these skills are part of the learning process at our Student-Run Credit Union branches. Orchard Hills students, shown below, are learning valuable organizational skills that will benefit them in their future!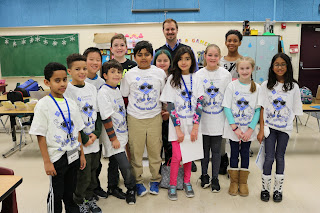 Orchard Hills Student-Run Credit Union winter volunteers
Your Turn:
What types of organizational skills do you use on a daily basis? In what ways does keeping your money organized help you? Tell us some of your organizational successes!
« Return to "Money Matter$ Blog"
Go to main navigation