3 Reasons to Switch to Digital Wallet Purchases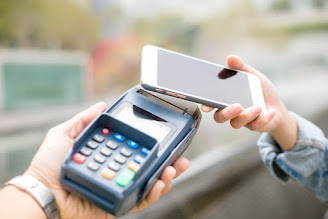 As credit and debit card purchases become more prevalent than cash transactions, you may think that pulling out your plastic is more hygienic than paying for your morning coffee with cash. Think again! According to a 2019 study, the amount of bacteria living on the average credit card is about twiceas much as that on the average dollar bill.
With COVID-19 still on the front of many minds, looking for a healthy, safe alternative to cash and cards should be a priority. Thankfully, Community Financial has the answer: Digital Wallets! With a digital wallet you can securely store your Community Financial debit or credit Mastercard in your phone and use it just like your physical card—but without the added germs! Below, we've compiled the top 3 reasons to switch over today.
1. Health Safety
With so many germs clinging to your cash and cards, using a digital wallet allows you to pay for your purchases without needing to touch the bacteria-hotspots of card readers at the register. With a simple tap of your smartwatch or a wave of your phone, you can pay for your purchases and keep yourself safe at the same time.
2. Fraud Protection
Paying with a digital wallet is safer than giving the store your card number and PIN. Because transactions are validated by a number that is unique to each device and pin number, only the encrypted number is used to authorize your purchases. This means that your card number and PIN are never transferred or stored with the merchant, meaning they are less likely to be compromised. Also, because many smartphones offer fingerprint Touch ID or Face Recognition, your digital wallet is safe under another layer of protection.
3. Convenience and Ease of Use
Have you ever gotten to the store, picked out your purchases, and then realized you forgot your card at home? With your digital wallet, you never have to worry about forgetting your card again. As long as you have your phone, you have access to your card wherever you go. Also, going cardless and contactless means there is no reason to show ID, sign a pin-pad, or wait for the chip reader to complete your transaction. Your digital wallet is quick, easy, reliable, and ready when you are without the hassle of digging around in your wallet to find the correct card.
To set up your digital wallet, simply follow the "Add a Card" process in your smartwatch or phone's wallet. Your information will be validated and you will receive a One Time Pin (OTP) at your email on file to complete enrollment. For more help setting up your digital wallet, check out our helpful video here: Digital Wallet Instructions
Your Turn: What's your favorite part of using a digital wallet? Share with us in the comments below.
« Return to "Money Matter$ Blog"
Go to main navigation