Slow Cooker Teriyaki Chicken Thighs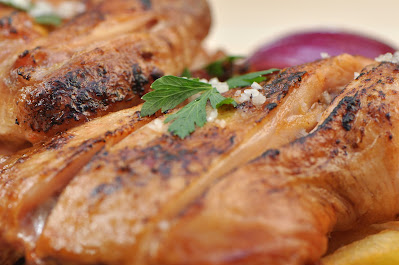 With holiday stress in the rearview mirror, there's no better time to try out new recipes for the whole family to enjoy. Set-it-and-forget-it meals, like this delicious slow cooker teriyaki chicken recipe, are the best way to try new dishes without the extra hassle of spending hours in the kitchen. With only 15 minutes of prep and a low cost per serving, this recipe has it all!

Yield: 4 servings
Prep time: 15 minutes
Cook time: 4-5 hours
Cost per serving: $1.50
Ingredients:
2 pounds boneless skinless chicken thighs
½ cup sugar
½ cup soy sauce
2 tablespoons apple cider vinegar
1 garlic clove, minced
1/4 teaspoon pepper
2 teaspoons cornstarch
2 teaspoons cold water
Directions:
Place chicken in a 4- or 5-qt. slow cooker.

In a small bowl, mix sugar, soy sauce, vinegar, garlic and pepper.

Pour over chicken.

Cook, covered, on low, for 4-5 hours or until chicken is tender.

Remove chicken from slow cooker; keep warm.

Transfer cooking juices to a small saucepan and skim the fat.

Bring cooking juices to a boil.

In a small bowl, mix cornstarch and cold water until smooth and stir into cooking juices.

Return to a boil; cook and stir 1-2 minutes or until thickened.

Serve with chicken and over instant brown rice for a complete meal.
Your Turn:Do you have a go-to slow cooker recipe that you love? Share it with us in the comments!
« Return to "Money Matter$ Blog"
Go to main navigation