School Spotlight: Local High Schools Learn About Fraud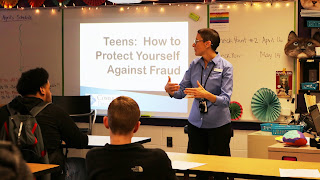 High School Partnerships Lead Teens to Financial Success and Away From Fraud!
Community Financial has exceptional partnerships with high schools in the Plymouth-Canton area. We are partners with P-CEP, Starkweather Academy, Canton Preparatory High School, and New School High. We have also conducted presentations at Northville High School and Clarenceville High School.
Education Partnership Coordinator, Kristen La Forest, runs our high school partnerships and prepares high school students for financial success. Mrs. La Forest creates and gives presentations to high school students on topics such as fraud, credit, credit scores, checking accounts, interviewing techniques, financial aid, etc. She is a wonderful resource for high school students just beginning to explore and navigate the financial world! Here are some pictures of Mrs. La Forest presenting the topic "Teens and Fraud" to students at Starkweather High School.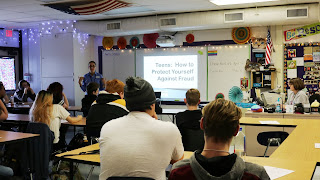 Education Partnership Coordinator, Kristen La Forest, instructs
teens at Starkweather Academy about the different types of fraud
that specifically target their age group.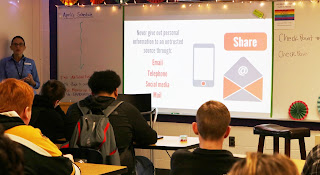 Teens learn important tips on how to avoid
becoming a victim of fraud.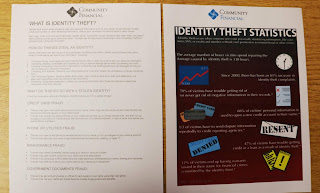 Hand-outs given to teens to reinforce the importance
of keeping your information safe.
Teens and Fraud Prevention
Teens are a common target group for fraud since it is easy for scam artists to take advantage of teens who are just learning to navigate the world on their own. Teens should be leery of "too good to be true" deals that offer lower cost items on name-brand electronics, as well as designer and luxury goods. Scam artists also target teens and adolescents with emails and pop-ups that ask them to verify their social security number and/or account information. These scams often look legit and professional, so it is easy to be tricked into giving out personal information.
Two other scams that teens fall victim to are scholarship scams and contests. Teens should be suspicious when being charged money for scholarship searches or contests asking for personal information or fees for submissions.
For more information on how to prevent fraud and identity theft, visit
cfcu.org/identitytheft
. You can also visit our
Money Matter$ eLearning Center
and complete the Money Basics module on "Identity Protection."
Your Turn:
What recent scams targeting teens have you seen or experienced?
« Return to "Money Matter$ Blog"
Go to main navigation