School Spotlight: Orchard Hills Students Continue to Be Money-Smart!
Orchard Hills Elementary School in Novi has been a partner with Community Financial for eighteen years! Throughout these years, students have been exposed to the importance of saving money monthly at the Student-Run Credit Union. This year, however, students at Orchard Hills have been encouraged to visit the "drive-thru" at our near-by Community Financial branch locations. Orchard Hills students remain money-smart in spite of the challenges the past year has thrown at us! Although the Student-Run Credit Union hasn't been able to operate within Orchard Hills just yet, it's fun for students to watch their money and prizes "ride the tube" to and from their car!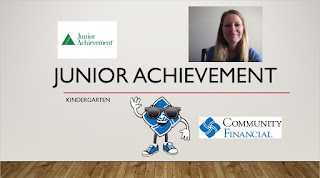 Education Partnership Coordinator, Erin Ilg, is shown
above in a pre-recorded video teaching
kindergarten Junior Achievement.
Orchard Hills Virtual Kindergarteners Participate in Junior Achievement
Financial and business education continues despite the pandemic as well! Students in Melissa Israel's virtual kindergarten class recently participated in Junior Achievement with Education Partnership Coordinator, Erin Ilg. Junior Achievement (JA) is a volunteer taught curriculum that promotes work-readiness skills, entrepreneurship, and financial wellness. Community Financial offers JA to all its school partnerships.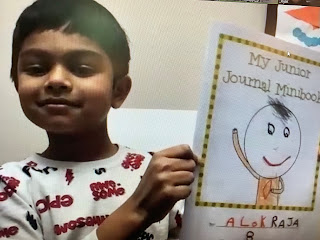 Orchard Hills kindergarten students pose with their super
cute self-portraits on the cover of their JA Junior
Journals (through the computer screen)!
Each classroom is taught five sessions of Junior Achievement. This year, sessions were taught via pre-recorded videos created by Community Financial Education Partnership Coordinators. Students in Ms. Israel's class specifically learned about needs and wants, jobs, what it means to earn and save money, and what it means to give.
JA is an incredible asset to any economics curriculum during the school year. If you would like more information about adding Junior Achievement classes at your school, please contact Assistant Manager/Community Relations, Mary Kerwin, at mkerwin@cfcu.org.
Your Turn: How have youcontinued to be money-smart during this pandemic? Share your favorite savings and budgeting tips with us in the comments!
« Return to "Money Matter$ Blog"
Go to main navigation