Financial Literacy Month Resources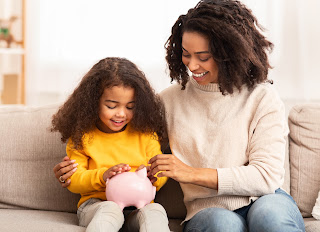 Did you know that April is Financial Literacy Month? While it's a good idea to keep your financial education up to date all year long, now is the perfect time to take a step back and reassess your finances and the techniques you use to stay financially literate. Whether you're looking to brush up on your own knowledge, or learn tips for teaching money-smart choices to your children, there's always something new to learn. Below, you will find a handful of our favorite financial resources to help build your knowledge during this year's Financial Literacy Month!
Money Matter$ eLearning Center
Our Money Matter$ eLearning Center contains free and self-paced modules that cover key financial concepts such as saving, investing, raising your credit score, identity theft protection, and obtaining a mortgage. This program is mobile/tablet accessible and each module is only 2-7 minutes in length, so it's perfect for learning new information around your busy lifestyle.
My $ Manager
Looking for a quick and easy way to plan, budget, and save for your next big (or small) financial goal? Whether you're saving for a car, house, or your next vacation, Community Financial's My $ Manager tool is here to help you reach your goals. Simply login to your mobile or eBanking account to get started today!

Financial Resource Center
Community Financial's Financial Resource Center is available 24/7 to provide helpful information on a range of different financial topics, including: auto buying, career planning, loan & credit management, saving & investments, tax planning, etc. Click on each channel to see more information and resources on the various topics.

Financial Calculators
Our Financial Calculators can be used to calculate monthly payments on an auto loan, mortgage, or credit card, as well as help you plan your budget or retirement savings. Just enter in some basic data and the calculator will help you figure out how much you can afford to pay, or what you can save.

Money Matter$ Blog and Podcast
Our Money Matter$ Blog that you are reading right now also offers insight on a variety of financial topics. You can browse our current and past blogs for financial tips, news, and events going on at the credit union. Additionally, available on both iTunes and cfcu.org, our Money Matter$ Podcast has a library of short, easy to listen to episodes covering a variety of financial topics.

Financial Counseling
Community Financial offers members free access to professional financial counseling services through GreenPath Financial Counseling. Also, our Community Financial team members are available to create a plan to help you reach your financial goals at any of our branch locations or over the phone at (877) 937-2328.

Credit Union Youth Month
April is also National Credit Union Youth Month, which encourages kids to develop healthy saving habits by making savings fun and exciting. "Save Small. Dream Big." is the official theme for this year, encouraging young minds to develop saving habits at an early age so they can reach all of their financial dreams. Visit cfcu.org/youthmonth for more helpful information.
Your Turn: Do you use any financial literacy tools to help keep your finances on track? Share your tips with us in the comments!
« Return to "Money Matter$ Blog"
Go to main navigation